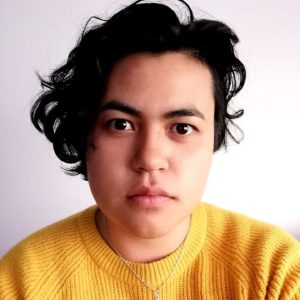 YULIETH MORA GARZÓN. Bogotá, Colombia (1992) Social communicator and journalist with a specialization in Narrative Creation from Universidad Central. Author of the novel Movimientos Involuntarios de la Editorial Milserifas (2020), the book of short stories La Mara de la Editorial Universidad Central (2020) and the book of poetry Para acabar con los días bruscos Editorial Hoja En Blanco (2022).
He is the Premio Nacional de Cuento La Cueva (2021), District Short Story Prize City of Bogota (2018) and has been a finalist in other competitions such as the National Contest of Children and Youth Literature (2017), the Short Story Contest Relata of the Ministry of Education (2017), the VIII National Short Story Prize La Cueva (2019) and the National Short Novel Prize of the Central University (2019), among others.
She is part of the book "Los caminos que nos unen: Cuentos colombianos desde la ciencia y la naturaleza" edited by the Creative Writing Program of GROW Colombia and the Universidad de los Andes and translated for the United Nations Climate Change Conference – COP 26, in Glasgow (Scotland) (2021) and of the Antología Desde la luz preguntan por nosotros: panorama de poesía colombiana contemporánea published by the Fundación Pablo Neruda (2021).
He has published his poems in Malpensante Magazine and the poetry portal of Brown University Purple Ink (USA) (2017).
In 2022 he was Residente en Can Serrat – International Art Residence (El Bruc / Barcelona – Spain). Recently, she was awarded the Casa Octavia – Dharma Books Writing Residency in El Paso, Texas and will publish her project in the 2023 catalog of the Mexican publisher. She is currently working at the Instituto Amazónico de Investigaciones Científicas – SINCHI (Colombia).
Yulieth will be in residence at Can Serrat during February 2022.
About his process while in residency >>>