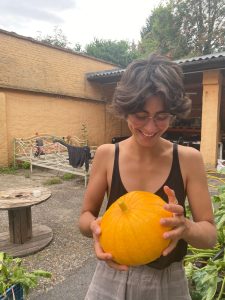 Paula Vicente Puiggròs is a visual artist from Barcelona. She graduated in Fine Arts at the University of Barcelona and holds a Masters in Visual Arts from the KASK School of Arts in Belgium, where she has recently had exhibitions such as Embroglio (Le Paviglion, 2022), or Map#128 Intraaction, (KASK, 2022).
Her work revolves around the idea of inhabiting and the relationships we establish with the environment and the multiple lives that make it up. To shift the anthropocentric focus in order to try to have an impact from other angles. To find what is subversive in collective thinking, to make from what is nearby in order to rethink what is established and to open up the question, to leave room for doubt.
Winner of the Creation grant at Sala d'Art Jove 2021 and recently of the residency grant at Nau Estruch, Sabadell, and of the Desclocalitzacions grant from Experimentem amb l'Art i Es Far Cultural. She has participated in several exhibitions and festivals such as Ecoss Tardor (Fabra i Coats, Barcelona) Maleza (Barcelona, 2022), De aquellos polvos, estos lodos (Barcelona, 2021), Bauen (El Bòlit, Girona, 2021), Inund'Art (Casa de la Cultura, Girona, 2020), Corrente, La notte bianca (Italy, 2019), Art Emergent Sabadell (Sabadell, 2019), among others.
She has also carried out several residencies in places such as Konvent Zero (Berga), Es Far Cultural (Menorca), El Bòlit (Girona), or Experimentem amb l'Art (Barcelona) where she has also worked as an educator.
Paula has been selected with the full scholarship for visual art and will do her residency at Can Serrat from July to November 2023.