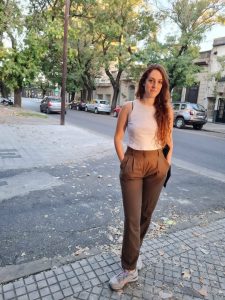 Paula Galansky was born in 1991 in Concordia, Entre Ríos. She studied Literature at the National University of Rosario, Faculty of Humanities and Arts (UNR, 2018), the Diploma in Creative Writing at the National University of Tres de Febrero (Untref, 2021), and is currently in her first year of the Master's Degree in Argentine Literature at the National University of Rosario.
In 2019 she received the Creación grant from the Fondo Nacional de las Artes and the Elipsis grant from the British Council Colombia. She was selected for the Bienal de Arte Joven de Buenos Aires 2019. She is part of the anthology Divino tesoro (Mardulce, Buenos Aires, 2019). She is also part of the anthology of Santa Fe storytellers Nueve Nueves (Serapis 2022), and the anthology Elipsis 2020. She published the fanzine Dos noches (Menta Zines, Rosario, 2018) and Inventario (Ediciones Danke, Rosario, 2020). Her book of short stories El lugar en el que estoy cayendo won first prize in the Concurso Municipal de Narrativa Manuel Musto 2021.
She currently works as a teacher and proofreader, writes reviews of plays, books and exhibitions for the digital media La canción del país, and since 2021 she has been teaching a creative writing workshop at the Biblioteca y Archivo de Arte Contemporáneo América Elda Nancy, in Rosario, Argentina.
Paula will be in residence at Can Serrat during August-September 2023.