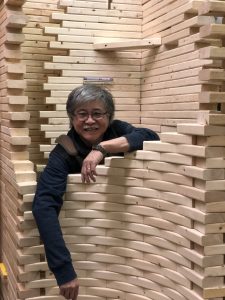 Foon Sham received a BFA from the California College of the Arts, and a MFA from Virginia Commonwealth University. He is a professor of Art at the University of Maryland. He has had 44 solo exhibitions in Washington DC metropolitan region, and in New York, California, France, Canada, Norway, Australia and Hong Kong. Most recent solo exhibition is at the National Building Museum in Washinton DC
His group exhibitions includes the Corcoran Gallery of Art, the Kreeger Museum in Washington DC and Virginia Museum of Fine Arts. His large-scale sculpture was installed in Navy Pier in Chicago, Nayatad in Hungary, Sculpture By the Sea in Australia, Fjaler in Norway, Merida in Mexico and currently the Smithsonian Garden at the National Museum of American History in Washington DC.
Permanent commissions include the Gallery Place-Chinatown Metrorail Station, in Washington DC, the US Embassy in Suriname, the Golden Triangle in Washington DC and REI in North Bethesda, Maryland.
He has received many awards including the National Endowment of the Arts, the Nordic Artists' Centre Residency, Norway, the Virginia Commission of the Arts, the Franz and Virginia Bader Fund, the Arts Achievement Award from Fairfax County, Virginia, and the Outstanding Educator Award from the International Sculpture Center.
Foon makes his residence in Can Serrat during the month of November 2022 
About his process while in residency >>>