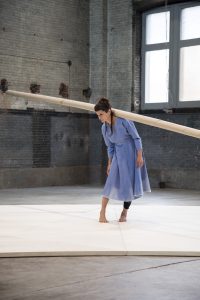 Meryem Bayram lives and works in Antwerp/Belgium. She's a visual artist, scenographer, and curator.
Bayram was a member of the theater collective OnderHetvel from 2006 – 2018. She worked as an artistic advisor for Platform 0090 since 2016. From 2020 to 2022 she also was the artistic leader. Bayram has been associated artist of Platform 0090 since 2013.
Bayram initiated and curated The Image Generator image-generator.be in 2020,2021 and 2022. In the past, she also curated Mind the Depth /2006 – deSingel, Antwerp, and Manifest Destiny /2009 in Extra City, Antwerp.
In the work of Meryem Bayram, the unfolding relation between human behavior and a constructed spatial environment is the central driving force. With wood, cardboard, and elastics, she creates installations that trace and reshape the outlines of physical space and in the same gesture, are challenging living bodies to inhabit and transform that space.
Meryem did her residency at Can Serrat in November 2023.