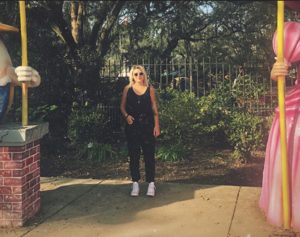 Danica Olders is a Montreal based visual artist. She completed a BFA, majoring in textiles with a minor in fashion at the Nova Scotia College of Art and Design University in 2011. Her multi-disciplinary practice combines textile practices with painting, digital animation, and installation.
Olders' last two exhibitions were abroad, the most recent, March 2018, was in Mexico City at Loot Lab, where she and James Benjamin put together an audiovisual installation involving multiple projections and live analog performance by Benjamin. And just before during the summer/fall of 2017, she completed a visual arts residency at Fusion Art Gallery in Torino, Italy, where she focused on painting colorful faces and installing them throughout the city. For the closing exhibition, she designed an immersive audio installation with the faces painted inside and a vintage toy outer design. The installation "Mappa Mondo," was a 12 sided carousel, suspended from the ceiling in which the viewer could spin it from the outside and enter by ducking, and alter their experience or those of others inside with the force of rotation.
Olders has worked with numerous musical and visual artists creating costumes, album artwork, and music videos. She has participated in two (2016/2017) wearable art shows at Montreal's Never Apart Gallery and has been instrumental in the conception and art direction of various establishments in Montreal such as Le Mal Necessaire and Bar Kabinet, designing and producing murals, signage, and silk-screened wallpaper.
////   http://danicaolders.com/   —-   https://soundcloud.com/wasabibi/mappamondohttps://   —–   www.mixcloud.com/n10as/playlists/friend-hour-with-friends/   http://amoveablehead.tumblr.com/   —–   http://vangoworld.tumblr.com/   ////
Resident in Can Serrat from the 30/08 to the 28/09/2019
About her process while in residency >>>