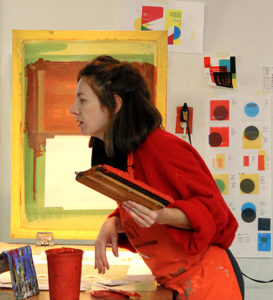 Carlotta first studied theatre direction in Milan (Italy) and obtained her degree at Scuola D'Arte Drammatica Paolo Grassi Conservatory in 2007. Coming from a graphic designer's family and having always been in love with visual art, since the beginning she worked in this area, along with her theatrical projects. Once she move to Paris, Carlotta decided to study Graphic Design and Multimedia at the École des Arts Décoratifs, from 2014 to 2016, where she discovered her passion for editorial design, printmaking, and artist books. In 2017 Carlotta decided to close this particular formative journey and she get a master's degree in Fine Art and Graphic Design at the École Nationale supérieure des beaux-arts de Lyon.
Today Carlotta works in graphic design, illustration, and printmaking through a multiplicity of projects: She collaborates with the Studio Origoni Steiner, the family design and architecture studio, she pursues her interest in editorial creation and printmaking through various artist residencies and continues her research between visual art and theatre through her french association Femmes Nomades (www.femmesnomades.fr).
www.origonisteiner.it
Last residency work : www.wsworkshop.org/collection/veil-seen-lifted/
Carlotta Origoni will be in residence at Can Serrat during the month of May 2022.
About her work process at the residence >>>