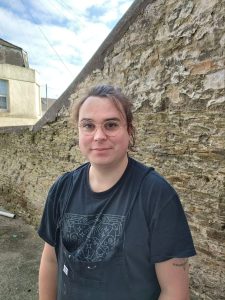 Cam Williamson is a queer visual artist based in Plymouth (UK) that focusses on social and spatial relationships. Currently working on their PhD thesis on 'post social realism', they are contextually drawn to class politics, the ethics of representation, and social geographies. Primarily working as a painter on found materials, Cam explores the relationships between the human and non-human, and how they inhabit the space they share.
Coming from a queer working class background, Cam uses first hand experiences of outside perception to guide their work, avoiding the elitist voyeurism that can sometimes be present when depicting the working class. Inspired by social realism as a genre, particularly the British 'kitchen sink' movement, Cam is invested in progressing and adapting social realism for contemporary audiences. Focusing on the 'social' aspect of social realism, the artist is increasingly working towards various participatory projects to analyse how to make the subject autonomous to study how to level the hierarchy between artist and subject.
Cameron makes his residence at Can Serrat during the month of June 2023.