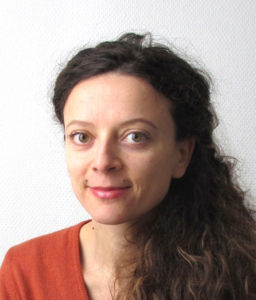 Born in 1984 in France, Anaïs Duplan lives and works near Toulouse. Master degree in Textile Design at ENSCI TEXTILE, Paris, 2008 ; Art and Craft Diploma, major in weaving by ESAA DUPERRE, Paris, 2005.

The raw material is at the heart of her concerns. Seeking to deconstruct fabric through the technique of weaving, she is interested in the life-force embodied in matter and seeks to express volume as well as movement in her woven bas-reliefs made of fibers of character such as horsehair.
Inspired by the movement animating all living matter: heartbeat, seismic activity, dance…, she questions the materiality of the fabric, its fragility, its complexity and its expressiveness, its "language".
Following the natural, primitive, vital rhythm of inspiration and expiration, her work is born dialectically both from the original nature of the free material and the double constraint of stretching and compressing operating upon it which, similar to the interplay of underground forces that created our surrounding landscape, folds said material so as to create nooks and crannies reflecting the mountains and valleys structuring said landscape.

Her research about vital energy is also inspired by the observation of sinusoidal diagrams of rhythms and sounds. The thread is for her a line drawn not in pencil but in fabric, whose undulation can be further explored by the means of etching and monotype techniques.
Anaïs Duplan will be in residence at Can Serrat during May 2022.