WHAT A TIME TO BE ALIVE — 2016 (Published in November 2016 in El Bruc)
On November 26th, 2016, Can Serrat celebrated two years of art projects by selecting 11 artists* previously in residence and invited the curator and art critic Irina Mutt to build a narrative to present the different projects. Price of the publication: 7€.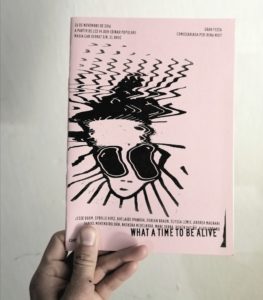 *Jesse Quam, Sybille Hotz, Adelaide Ivanova, Dorian Braun, Elyssa Lewis, Andrea Magnani, Daniel Moreno, Natasha Nedelkova, Marc Serra, Rubén Patiño and Aldo Urbano. 
FAR AWAY TREASURE — 2017 (Published in November 2018 at l'Automatica, Bcn)
For its 2018 annual curated exhibition, Can Serrat collaborated with Quim Packard, who was invited to follow projects produced in residency for the duration of 2017. Quim worked closely with Nyamnyam who co-curated the event in their space in Barcelona.
The exhibition was an open work session that involved cooking, eating, and talking about the concept of artist residencies and their relation with colonial ideology and global capitalism. The meal was made with ingredients foraged around the forest of el Bruc near the residency of Can Serrat. During the session we weaved together the history of artist residencies and there shared past with colonial exploration and foraging for food. Works by Marion Balac, Amery Kessler, Duncan Gibbs and Anna Wolfe-Pauly, artists who were in residency during the year 2017 in Can Serrat were shown to thread together the ideas of the workshop. Price of the publication: 7€.