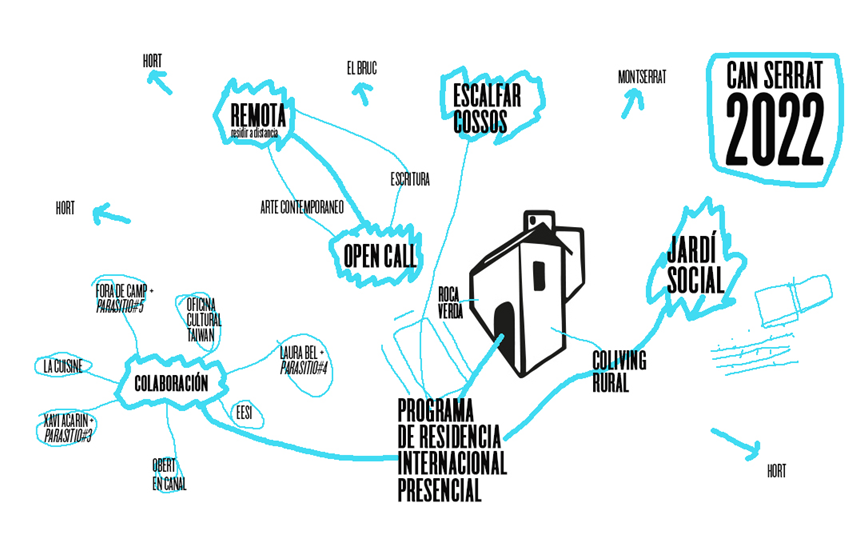 this document is the legend that accompanies the program map for 2021.
IN-PERSON INTERNATIONAL RESIDENCY PROGRAM
The Can Serrat staff follows and supports artistic and literary processes for the projects selected between 20219 and 2020.  (Due to COVID-19, we have had to reschedule all of the residencies from April 2020 for April 2021 when we expect to be able to begin welcoming those again able to travel safely. )
PUBLIC OPEN CALLS
In 2021, we will publish 2 open calls for in-person international open calls for 2022.  Each open call will have 2 modalities, one for writing projects and one for contemporary art practices, each with the possibility of being awarded a full or partial grant.
1: Open call for a residency in winter-spring 2022.
Application period: April 2021
Results announced: June 2021
2: Open call for a residency in summer-autumn 2022.
Application period: October 2021
Results announced: December 2021
REMOTA
International distance residency program.  This is a collaborative project between guion_bajo (Colombia) and Can Serrat.  The REMOTA team follows and supports the artistic and literary processes and production of internationally selected projects through 2 annual programs.  Each program is one month long.
Dates for the next program:
October 2021. Open call in July 2021.
COLABORACIÓNES 2021
FORA DE CAMP__ aspires to be a space for research and artistic experimentation in which we allow ourselves to be influenced by collective interaction and exchange.  This project proposes itself as a response to the health situation that we are currently living in since last sping and invites 4 residents to participate in a program that contemplates ways of generating shared spaces when we cannot meet physically, invoking other strategies to establish contact from afar. Three other involved art centers are involved and in dialog with the program, which has a relevant implication in local practices in connection to the environment in which each are based: La Escocesa (Poblenou, Barcelona), Lo Pati (Amposta) and Can Serrat (El Bruc).
NAU CÔCLEA __ GRAND TOUR 2021, Grand Tour is a route where participants walk along selected artists.  When? Summer 2021.
RURALISMS (provisional title)  __ Artistic-scientific agri-reflections in times of systemic crisis.
Project promoted by
Revista Sobirania Alimentària

Departament de Geografia de la UdG

Càtedra d'Agroecologia i Sistemes Alimentaris de la UVic

Grup TURBA de la UOC

Centre Art i Natura (CAN) de Farrera
In collaboration with
Ajuntament de Barcelona

Centre d'Art i Sostenibilitat El Forn de la Calç. Calders (Moianès)

Addend. La Morera de Montsant (Priorat)

Lo Pati – Centre d'Art de les Terres de l'Ebre. Amposta (Montsià)

Centre Quim Soler, la literatura i el vi. El Molar (Priorat)

Centre de Creació Contemporània Nau Côclea. Camallera (Alt Empordà)

Can Serrat Centre d'Art El Bruc (Anoia)
This program proposes a series of artistic residencies and a conference/exhibition of dialogs between producers, artists, and social scientists in order to reflect on the present and future of the rural world and agri-food systems in the face of global environmental changes.
EESI __ An annual collaboration with the Fine Arts school EESI based in Angulema/Poitiers (France) as part of its professionalization program for recently graduated artists. This is a three-month residency at Can Serrat during which the team supports the selected project/artist and their creative process.
LA CUISINE __ Center for contemporary art and design located in Negrepelisse (Occitanie, France).  In 2021, La Cuisine and Can Serrat will work together for the first time exchanging and dialoguing about their artistic practices, cultural management, and the relation to the environments in which they are based, with the objective of generating future project exchanges between the two centers.  This project is funded by Euroregio.
OFICINA CULTURAL DE TAIPEI __ Every year, Can Serrat follows and supports a writer from Taiwan selected by The Oficina Cultural de Taipei for the duration of a  two-month residency.
Selected writer for 2021: Yang Shuangzi
OBERTENCANAL __ Production and exhibition support collaboration with the museum Muxart (Martorell).  Summer 2021 plus the annual working seminar "El DIA D" in the city of Esparreguera. October 2021
ROCA VERDA
The association Roca Verda de Montserrat is a sustainable and ecological consumer cooperative based in Can Serrat.
COLIVING RURAL 
Long-term multidisciplinary community.  Considers understanding the challenges and implications of living collectively in a rural context, connects to the surrounding territory, local initiatives, and exchanges with the international residency program.
ESCALFAR COSSOS
An online program created to support and learn about residents who have had to reschedule their stays at Can Serrat as a result of covid-19. Two virtual meetings per month from February through April 2021 to understand and discuss the work and the current situation of each participant.  It also considers how to create community(ies) from a distance.