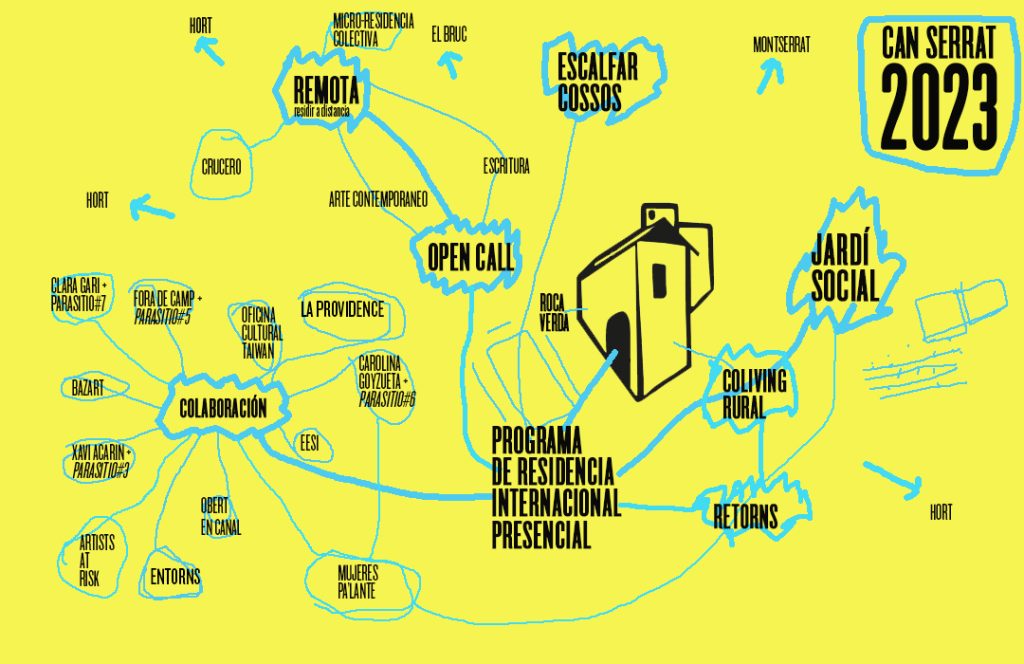 this document is the legend that accompanies the program map for 2023.
IN-PERSON INTERNATIONAL RESIDENCY PROGRAM
The Can Serrat staff follows and supports artistic and literary processes for the projects selected between 2021 and 2023.  (Due to COVID-19, we have had to reschedule all of the residencies from April 2020 to April 2021 when we expect to be able to begin welcoming those again able to travel safely).
PUBLIC OPEN CALLS
In 2023, we will publish four open calls for in-person international open calls for 2023-24.  The open calls for winter-spring and summer-fall 2024 will have two modalities, one for writing projects and one for contemporary art practices, each with the possibility of being awarded a full or partial grant.
1: Ongoing call for a limited number of places for residences in 2023
Open all year round
2: Narrativa Colectiva call, para participar en el programa de creación colectiva durante seis semanas en enero-febrero de 2024
Application period: Febrero 2023 (results announced Abril 2023)
3: Open call for a residency in winter-spring 2024.
Application period: March 2023 (results announced: May 2023)
4: Open call for a residency in summer-fall 2024.
Application period: September 2023 (results announced: November 2023)
REMOTA
Collaborative project of international long-distance residency between guion_bajo residency (Colombia) and Can Serrat. During the confinement and the impossibility of traveling, we created this online program to accompany selected artists in their artistic and literary production processes. During 2023, and with the restoration of the possibility to travel, we are adapting this project.
COLLABORATIONS 2023 :
In the framework of the PARASITIO project we collaborate with:
Parasitio#4 – Fora de Camp
FORA DE CAMP_ wants to be a space for research and artistic experimentation where we can be influenced by interaction and collective exchange. It is activated in dialogue with three other art centers involved, which have a relevant involvement in local practices and the environment they inhabit: La Escocesa (Poblenou, Barcelona), Lo Pati (Amposta) and Can Serrat (El Bruc).
Parasitio#5 – Carolina Goyzueta
EESI_ Annual collaboration with the School of Fine Arts (EESI) in Angoulême/Poitiers (France), as part of its professionalization program for newly graduated artists. This is a five-month residency at Can Serrat during which the team accompanies the creative process of the selected project.
Bazart_ hybrid, social, artistic, and cultural center around textiles located in Saint Antonin Noble Val, created by a group of local inhabitants and artists. Since 2022 Bazart and Can Serrat collaborate in exchange in residence between artists Debora Incorvaia (FR), Duncan Gibbs (UK), and Anaïs Duplan (FR) within the Escambi program. This year the Providence Art Center will join the collaboration.
Mujeres Palante_ space for women that provides information, accompaniment, and support.
Oficina cultural de Taiwan _ annual collaboration agreement. Each year Can Serrat accompanies a writer from Taiwan for a two-month residency.
Artist at Risk_ a nonprofit organization active at the intersection of human rights and the arts, with the aim of creating a worldwide network of art institutions, non-profit organizations, municipalities, state institutions, and international organizations to assist, relocate, and fund artists at risk of persecution or oppression, or fleeing war or terror.
Obert en canal_  production and exhibition accompaniment collaboration with the Muxart Museum (Martorell). Summer 2021 + participation in the annual "EL DIA D" day of murals in the city of Esparreguera.
Roca Verda_ cooperative of ecological, sustainable, and proximity consumption based in Can Serrat.
Jardín Social _ project by Carolina Goyzueta – anthropologist and invited to coordinate Parasitio#5. The Social Garden project in Can Serrat is based on the dialogue between art, nature, and community mediation. The aim of the project is the exchange of popular knowledge, learning, and activities related to gardening and horticulture to address the emotional crisis of human groups at risk of exclusion.