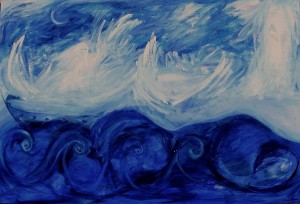 Angela is a Ballarat (Australia) based artist who has fashioned an active exhibition career that spans over 20 years.
Angela's formal training began in 1988 at the School of Mines Ballarat. It was a formative year that led her to complete her BA of visual art/ Major in Painting, at the University of Ballarat in 1991. She went on to complete her Honours degree in 2008 and is undertaking her Master's degree this year.
Angela's past works combine the influences of the natural landscape, travel, architecture, poetry, light and the narrative of eastern and western European folklore and fairytales. Central to her most recent work is the exploration of the 'spiritual' and connection.