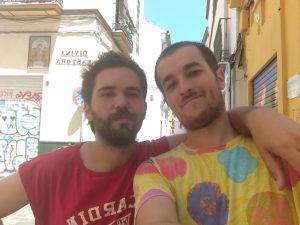 Álvaro studied aeronautical engineering and is currently doing a Ph.D. in renewable energies. He is also pursuing a degree in the Arts at the Universitat Oberta de Catalunya, where he is exploring sound installation and audio-visual media. He is part of the Carta Rota Association, through which he manages cultural projects in the town of Cartaya (Huelva) and runs a monthly collaborative fanzine on various topics.
Camilo has worked on community art projects in Colombia, mainly associated with the memory of conflict and violence, as well as heritage activation projects. He now lives in Madrid, where he works independently at the Escuela de Artes Sur, collaborates in urban planning, territorial and citizen participation projects, and experiments with publishing and performance to develop personal work and work with other artists. He is interested in working with archives, interventions in public space, and the generation of practices and spaces for collaboration and shared thought.
They are a couple and this is the first time they propose an artistic project together. Sharing and accompanying each other's processes has also helped them to think together. For some time now, Alvaro and Camilo have been organizing activities in their house, such as Cinematico 99, a film program curated from the Quechua meanings of each month, or the breakfast conversations to talk about food. With this, they intend to expand our domestic space to others and gradually turn their house into a space for sharing.
Álvaro and Camilo will be in residence at Can Serrat from July to November 2023.