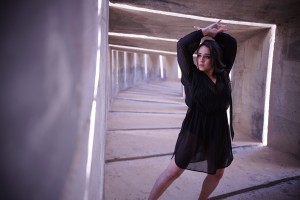 My name is Yafit Moyal I am a graduate of Bezalel Academy of art, Jerusalem, where I won "Bank Leumi Prize" for outstanding final project. I am a multidisciplinary artist, working in the fields of visual theater and dance, who grew up in Israel as a religious girl. As I grew older, I went through a process of secularization, that was a turning point in my life. It made me want to explore and understand my body, as well as the tight connection between body and soul that placed in the center of my art work.
Therefore, performance is my basic language. It blurs the boundary between the artist's personal identity and art. In live art, my body, personality, and experience become the raw materials. They become one.
In my art, I deal with questions that have haunted me ever since I gazed into my doubts. I explore notions of female sexuality, desire, repression and pain.
What genuine female autonomy looks like? I strive to expose these subtle ways in which it is restrained. I wish to create meaningful images in my works, for the eyes and soul of the viewer and thus to draw attention the places that the gaze avoids.
In 2016 I have participated in the "Artist's Incubator" of the "International Theatre Ensemble Tziporela", where I won a development grant from "Center Stage" Tel-Aviv.
In 2016 I won the "Creator and Creation" prize for my script for a full length film "The Hole".
During my residence in Can Serrat I will be working on a piece I wrote in Spanish, The Spiderss, is a solo performance of Visual-Theatre and dance. The Spideress is a woman who transformed herself from a woman to a Spideress. Her body, led by fear of penetration and experiencing involuntary contraction, created a disability to have sexual penetration in order to protect her.
But why penetration threatens her so much?