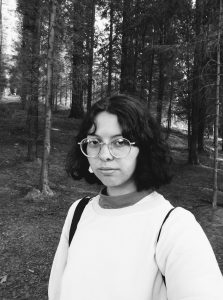 Raquel Páez Guzmán (1998) Bogotá, Colombia, is a Visual Artist from the Pontificia Universidad Javeriana de Bogotá with an emphasis on audiovisual and graphics. She moves mainly in the field of editorial production and drawing, as well as video-essay and animation. He has participated with several pieces in auctions and in different collective exhibitions, in addition, many of his pieces are part of magazines, fanzines, and books. Individually, and from the collective Las que cruzan, she has made posters with a critical social component that have circulated in various protests in Colombia. She is also part of the documentary practices collective INDEX with which she has organized and conducted video essay workshops in Bogota, Cali, and virtually. His individual audiovisual work has circulated at different festivals nationally and internationally.
She is interested in everyday life and in the production and reproduction of images, from exploration and curiosity. He approaches movement, nature, vision, ghosts, and language, among other searches. He works moving between media and exploring their spectra according to what he wants to express. The gestural manifestation has become important in his explorations, leaving traces and thinking that constant trace in the making. These manifestations are condensed in static or moving images, some as registers and others as explorations. She thinks about repetition and copying and in many cases she resorts to playing.
Raquel takes up residence at Can Serrat during the month of January 2023.
About his process while in residency >>>