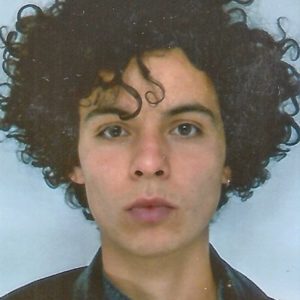 Born in Lausanne, Switzerland, in 1998, I live and work in Geneva (CH).
I think of my work as an exploration of the ideas of cultural anchoring and legacies, in a context of erosion and hybridization of these notions. This interest in systems of belonging to plural histories, cultures and therefore migrations, is accompanied by a desire to reinvent individual or collective myths and rituals, in an era of globalization, cultural mixing and decline of ecosystems. My practice, essentially sculptural, shows a fascination for manufactured objects, for archaeology, but also for the oral transmission specific to tales and fiction. Borrowing from various craft techniques, I develop inhabited environments, intermingled with stories, symbols and metaphors, sometimes evoking folklore, family stories, domestic space and constructions-ruins.
I am a member of Collective Disgrace, which I co-founded at the end of 2019 with Sophie Conus, Henry Drake and Ilana Winderickx. The project brings together diverse practices ranging from sculpture to experimental sound, writing, cooking and DJing. It thus aims to question the apocalyptic imaginations of an era marked by the gradual disappearance of a non-human otherness and the resulting dream worlds. Borrowing from the monstrous, the mythical, the supernatural, ruin or even from various creatures and symbols of progress, we weave together environments with squeaky sounds, charged with a feeling of nostalgia for things never experienced, and the fear inspired by an uncertain future.
Parallel to my plastic work, since December 2019 I have been working on the LIMBO project, a cultural space in the Eaux-Vives district of Geneva. A place for sharing, experimentation, and exhibitions, LIMBO aims to think and question the reality of a city such as Geneva, situated at the crossroads of cultures, powers, and challenges of the globalized world. Located in a changing area on the border of the economic center of the city and its cross-border residential districts, LIMBO sees itself as a platform dedicated to the interstices, the in-betweens that people inhabit, whether culturally or geographically. More broadly, the project aims to make visible and thus to mark out and define the hybrid intermediate spaces of the time, the territory, the cultures, the identities, and the convictions, while claiming and asserting their autonomy.
Pablo Rezzonico will be in residence at Can Serrat during the months of March and April 2022.