Translation Lab 'Toward a Lexicon of Usership'_2013 Stephen Wright
12 November, 2017 @ 5:00 pm

-

9:00 pm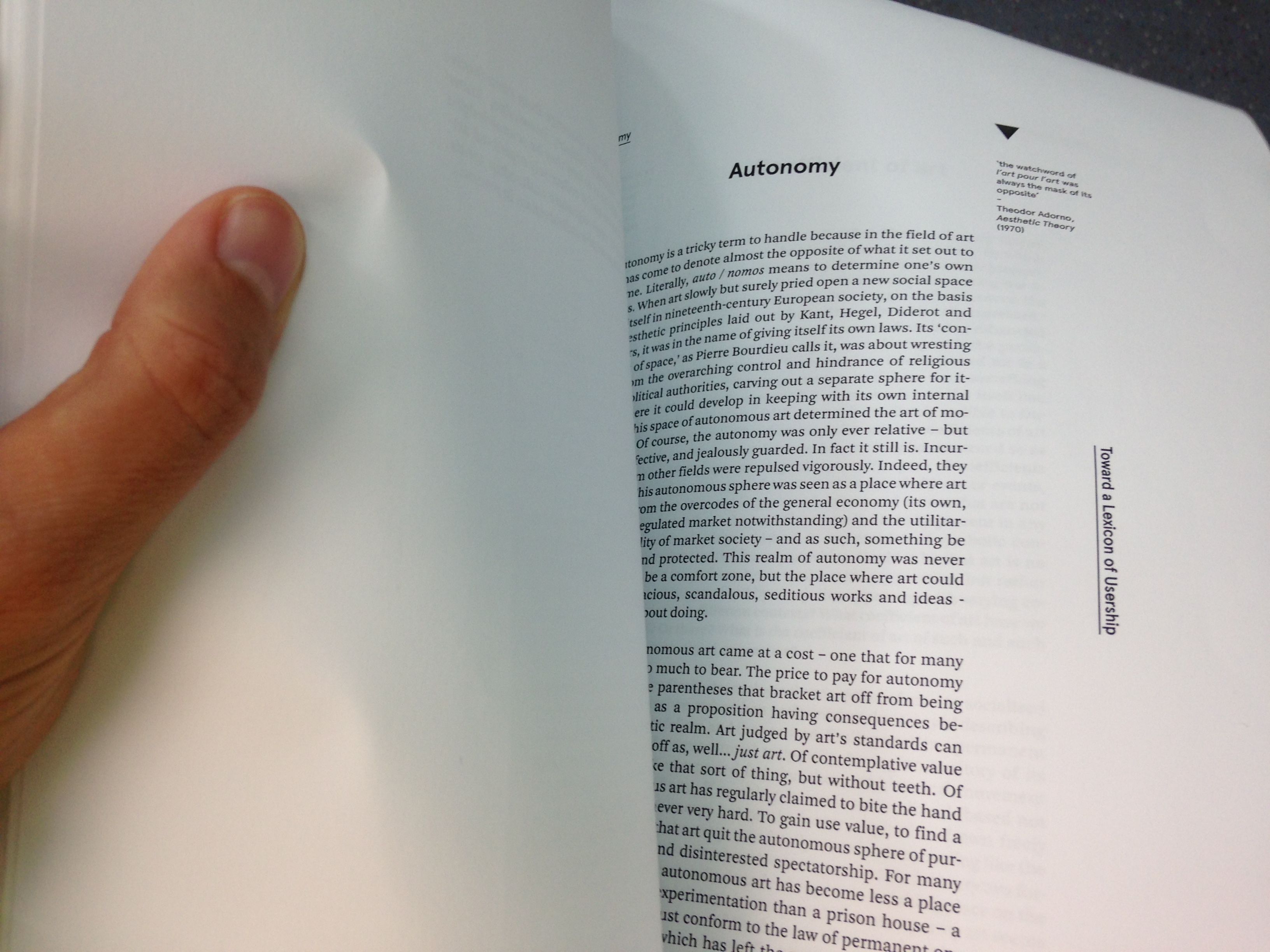 The project is a "laboratory" in the form of "wiki-translation" of the book of Stephen Wright "Toward a Lexicon of Usership" (2013) _ http://museumarteutil.net/wp-content/uploads/2013/12/Toward-a-lexicon-of-usership.pdf
The concept of "uses" as a figure of "users" – or more precisely the category of political and creative subjectivity called "uses" – has become increasingly important in the last 15 years with the emergence of 2.0 culture. The user is neither a passive consumer nor an active producer, but, in some way, both at the same time; its ability to generate content, information and value, without working, questions the set of budgets of modernity, starting with the definition of the work itself, displacing or replacing the category of observer in the field of knowledge to the owner in the field of the political economy. "Toward a Lexicon of Usership" (2013), by Stephen Wright, tries to take the measure of this paradigm shift that seems to require a true reorganization of the conceptual vocabulary inherited from the 20th century.
However, this "laboratory" is not a seminar on the inputs and outputs of the user concept; it is rather a collective experiment that consists of testing its power. Is not it also making use of translating and counter-translating? On the other hand, translate won't be a particularly strong way of using a text? During all Sundays of November, a group of users / translators meets in Can Serrat to "make use" of Wright's text and translate it from English into Catalan and Spanish. Translating a book is a lot of work for a translator, but for a group of users, it is inseparable from reading. If the collective translation is not a question of work, but a use of books, are we not close to an anthropological redefinition of work? At the end of the laboratory -probably that can't be finished in Can Serrat-, "Toward a Lexicon of Usership" will be published in Catalan and in Spanish and all users will sign it collectively.
The laboratory will be conducted by Stephen Wright _ in collaboration with Lluis Nacenta (www.cccb.org)
Users-readers/translators interested in participating, contact _ canserratart@gmail.com
Stephen Wright is an art theorist, curator, and professor. Born in Canada, he lives and works in Paris. His own research includes 1: 1 artistic practices, questioning the conditions of possibility and use of an art without a work, without an artist, and without a spectator, that is, an art deliberately evading the horizon of the event.
In 2013, he published 'Toward a Lexicon of Usership', a kind of "lexicon of uses", trying to rethink the vocabulary and institutions inherited from modernity.