(Español) Laboratorio de traducción _ 'Toward a Lexicon of Usership' (2013) Stephen Wright
5 November, 2017 @ 12:00 pm

-

6:00 pm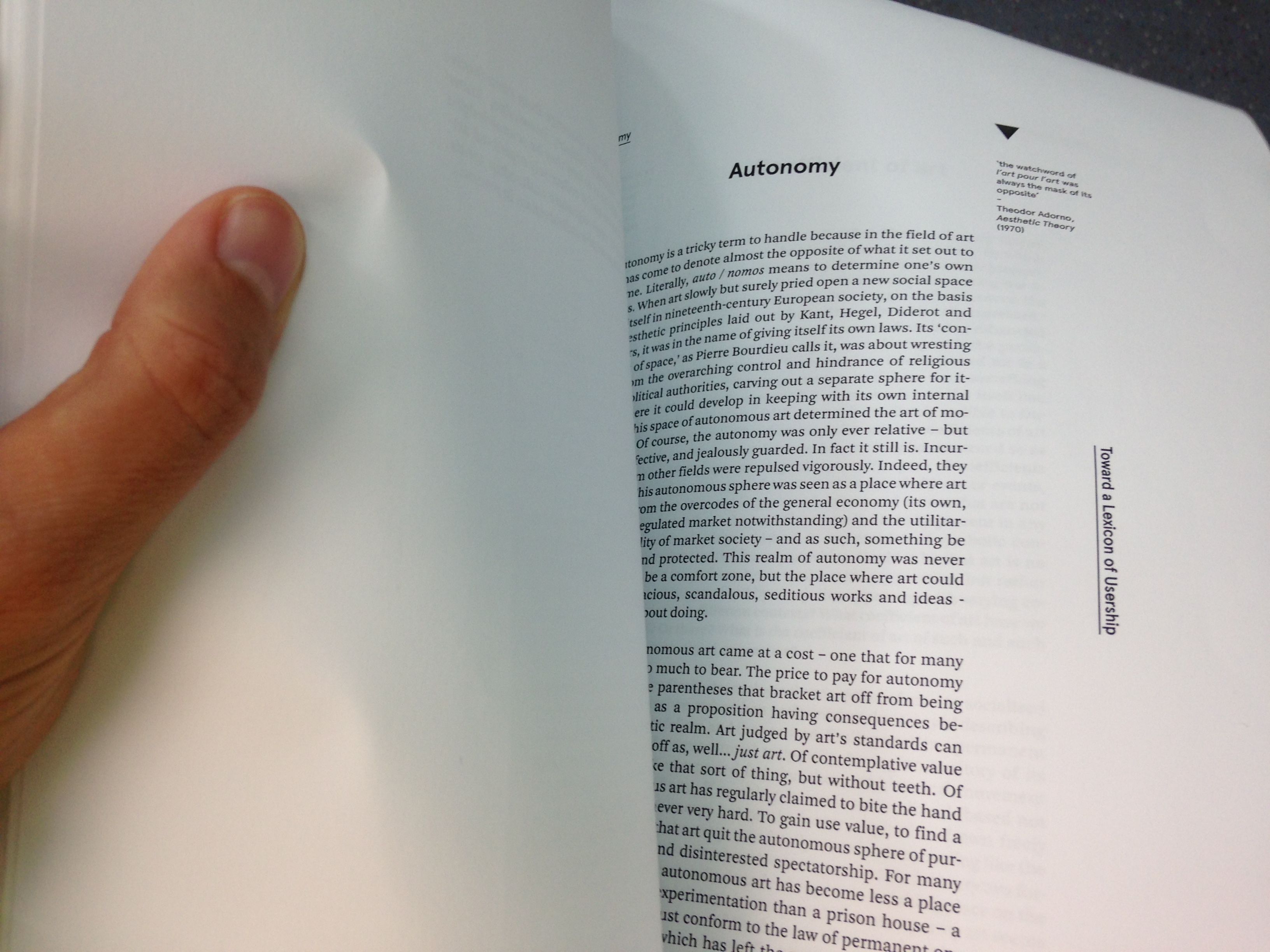 El proyecto es un "laboratorio" a modo "wiki-traduccion" del libro de Stephen Wright "Toward a Lexicon of Usership" (2013) _ http://museumarteutil.net/wp-content/uploads/2013/12/Toward-a-lexicon-of-usership.pdf (también adjunto en pdf)
El concepto de "usos" como figura de "usuarios" – o más precisamente la categoría de subjetividad política y creativa llamada "usos"- se ha vuelto cada vez más importante en los últimos 15 años con el surgimiento de la cultura 2.0. El usuario no es ni un consumidor pasivo ni un productor activo, sino, de alguna manera, ambos al mismo tiempo; su capacidad de generar contenido, información y valor, sin trabajar, cuestiona el conjunto de presupuestos de la modernidad, empezando por la definición del trabajo mismo, desplazando o sustituyendo de la categoría de observador en el campo del conocimiento al de propietario en el ámbito de la economía política. "Toward a Lexicon of Usership" (2013), de Stephen Wright, trata de tomar la medida de este cambio de paradigma que parece requerir una verdadera reorganización del vocabulario conceptual heredado del siglo XX.
Sin embargo, este "laboratorio" no es un seminario sobre las entradas y salidas del concepto de usuarios; es más bien un experimento colectivo que consiste en probar su potencia. ¿No es hacer uso también traducir y contra-traducir? Al revés, ¿no será traducir un modo particularmente robusto de usar un texto? Durante todos los Domingos de Noviembre, un grupo de usuarios / traductores se reúne en Can Serrat para "hacer uso" del texto de Wright y traducirlo del inglés al catalán y al castellano. Traducir un libro es mucho trabajo para un traductor; pero para un grupo de usuarios es inseparable de la lectura. Si la traducción colectiva no es una cuestión de trabajo, sino un uso de libros, ¿no estamos cerca de una redefinición antropológica del trabajo? Al final del laboratorio, "Toward a Lexicon of Usership" se publicará en catalán y en castellano y todos los usuarios lo firmarán colectivamente.
El laboratorio sera conducido por Stephen Wright _ en colaboración con Lluis Nacenta (www.cccb.org)
Usuarios-lectores interesados en participar, contactar _ canserratart@gmail.com
Stephen Wright es teórico del arte, comisario, y profesor. Nacido en Canada, vive y trabaja en Paris. Su propia investigación incluye prácticas artísticas 1: 1, cuestionando las condiciones de posibilidad y uso de un arte sin obra, sin artista y sin espectador, es decir un arte deliberadamente evadiendo el horizonte del evento.
En 2013, publicó 'Toward a Lexicon of Usership', una especie de "léxico de usos", tratando de replantear el vocabulario y las instituciones conceptual heredado de la modernidad.