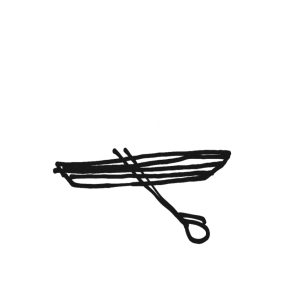 Crucero project is part of REMOTA, at a distance residency program created in 2020. The aim is to offer solutions and critical vision to deal with the feeling of loneliness, confusion and lack of feedback for creative people in their career.
The project comes from the simple observation that emerging (but not only) artists and writers in residency often lack information and support to navigate through the cultural world, Indeed we have identified that creative practitioners would greatly benefit from; Practical mentoring to enhance specific skills such as raising money, writing statements and applications , as well as coaching to support them to speak through their ideas and support them on an emotional level, among other supports.
The project is mainly thought to be organized online, it is the result of a collaboration between guion_bajo residency program and Can Serrat. As for 2023, crucero proposes two lines of work:
FEEDBACK: one to one session to review application project/statement, any document related to share the artist/writer's general work or specific project. (pack of 2 sessions, 1 hour each)
COTXES: one to one session with an artist/writer coach to accompany a specific moment in your career. A package of 6 one to one coaching sessions is offered to creative practitioners. The sessions will be there to offer emotional support, facilitate professional development and allow individuals achieve their aspirations. 1h sessions (first session, 1h30)
Thanks to the support of the cultural department of Catalonia, CRUCERO program will be offered without any cost to the first 6 persons to fill the following form per each of the 2 lines of tutoring. Passed those 12 persons (6 per each line) it will be offered the service with a 20% discount*.
The form will be open 48h from November 9 to 10, 2023, midnight (Spanish time).
CONDITIONS
There is no selection process, first come first served until 12 spots are full.
The funded program is only accessible to former residents of Can Serrat, guion bajo, and Remota program. For practitioners that never been in one of those residencies the program is open with a 20% discount until January 2024.
CALENDAR
The sessions will be programmed between November 2023 and January 2024.
Please fill the following form to register for Feedback or Cotxe 
You will have the possibility to make a 30-minute call with 2 of the tutors listed above before deciding with whom you'll like to speak after.
TUTORS
PAOLA CABALLERO DAZA
Tutoring: Literature Feedback
Language: Spanish
She is a cultural manager, writer, founder and director of the guion-bajo foundation, reader and coordinator of the Cruceros program (in Spanish). She studied literature at the Universidad de Los Andes in Bogotá, Colombia, a master's degree in Asian and African Studies from El Colegio de México and the diploma Expanded Writings: Language, Science and Art from the José Emilio Pacheco Chair at UNAM, in Mexico. She has been a pre-reader, reader and jury for various national and international scholarships, awards and incentives, and among her publications are, Voy y vengo with El Peregrino Ediciones. Twin Beds, edited by Cajón de Sastre, part of the Reading Colombia 2022 catalog and finalist for the 2022 National Prize for Published Novel from the Colombian Ministry of Culture.
ASLI SEVEN
Tutoring: Cotxe, Feedback
Languages: Turkish, English, French
Asli Seven is an independent curator, researcher and writer based between Istanbul and Paris. Her research and curatorial projects focus on infrastructure, landscape, pedagogy and performativity of documents, with an emphasis on fieldwork, ficto-criticism and co-creation.
As part of her curatorial practice, she has accompanied artists in various formats of mentoring/tutoring in different institutional contexts ranging from residencies (Cité des Arts, 2020-21 & Can Serrat, 2022); collective and/or alternative pedagical projects (M-est, Istanbul ; Arter Research Program, Istanbul ; IKSV Foundation mentoring program, etc) in process and/or production oriented contexts. These have taken the form of collective or one-on-one mentorship / coaching sessions ranging from a unique session to multiple sessions across 6-9 month periods. Since 2022 she has been interested in life coaching, professional coaching and literary coaching to find an appropriate methodology for the recognition of this supportive practice within the field of curating and contemporary art. As part of this interest, in 2022-23 she has undergone a 3-month process of professional coaching herself with an alumni of the HEC (Paris) certificate program.
Since 2021 she is a guest lecturer at ESBA MOCO Art School (Montpellier, France) and Sothebys Institute (London, UK) where she regularly engages in critical feedback with MA Level Art and Curating Students in French and English. She holds a doctoral degree in Artistic Research from ENSA Bourges and EESI Poitiers-Angouleme and a Research MA in Political Science from Université Paris 1 – Sorbonne. She is a member of AICA, C-E-A (French Association for Curators) and an alumni of Independent Curators International (ICI).
DORIAN BRAUN
Tutoring: Cotxe
Languages: English
Dorian Braun is a coach and artist and has been coaching individuals and groups undergoing change processes since 2017. His core training is in developmental coaching, he holds a Senior Practitioner Accreditation with the European Mentoring and Coaching Council (EMCC). From Oxford Brooks University he received a distinction at Master's level in Coaching and Mentoring and has presented his research at the International Coaching and Mentoring Conference. Additionally, his papers have been published in the leading practitioner journals, Coaching at Work and the academic journal, the International Journal of Evidence-Based Coaching and Mentoring. As an artist Dorian studied Fine Art at Duncan of Jordanstone College of Art, from there he went on to receive multiple awards including Friends of the Royal Scottish Academy and John Kinross Scholarship (also RSA). Following the scholarship, he exhibited across Europe and Scotland including RSA New Contemporaries ,Platform in Edinburgh and the Twente Biannual in Holland. He was also a founding director of The Project Café CIC, a community arts organization in the centre of Glasgow. His work as a coach and active founding director of Kinder Croft CIC, a forest school on the Northwest coast of Scotland, allows him to create supportive environments for people to learn about themselves and thrive. 
Dorian provides a warm and inclusive space for you to safely bring any experience or challenges you might be facing. The coaching process invites you to draw on your strengths, and with the support of the coach, achieve your aspirations. 
TAMY KOGAN
Tutoring: Cotxe
Languages: Spanish, English
Tamy (they/them) is a psychologist, writer and artist from Argentina who does a  transdisciplinary practice focused on identity and located in the intersection of artivism, human rights, diversities and mental health. They started working as a clinical psychologist in 2012, and became a gender referent in several environments such as Red de Psicólogxs Feministas in Argentina, accompanying people from LGBTQ+ community, non monogamous, artists, writers, people living abroad, and dissident identities. 
Tamy integrates arts and psychology by considering the therapeutic process as a creative process itself, and facilitating co-created, open spaces where it is possible to bring any artistic or expressive piece to work through.  Working from a depathologizing and power-decentered perspective, they consider every person as an expert in themself and their life, and accompany those paths by therapeutic conversations, narrative practices, bodily techniques and different psychological approaches according to the singularity and preferences of the person/situation.
https://tamarakogan.webflow.io/bio  
SOPHIE BLAIS
Tutoring: Cotxe, Feedback
Languages: French, Spanish, English, Catalan
Sophie is a cultural manager, and director at Can Serrat, she studied visual arts at the University of Strasbourg, photography at the ICART-Photo school in Paris, she completed a Master's degree in cinematographic and photographic studies and another Master's degree in management and cultural mediation at the Louis Lumière University of Lyon (France). From 2010 to 2015, she worked simultaneously as a photographer for newspaper and as a mediator in the field of art, literature and publishing. contemporaries: Nicephore Niepce museum (Chalon-sur-Saône), LUX art center (Valence), Les Rencontres de la Photographie in Arles and Le Creux de l'Enfer. (Thiers, France). In 2015 she started working as director of Can Serrat, an international residence for artistic and literary production.
Sophie spends most of her working time in conversations with artists and writers about their projects, processes, blockages, and general career. She is a restless person when it comes to thinking and understanding the human being. She has a philosophical (classical and contemporary philosophy) and empathetic approach to reality.
SARAH GOODCHILD ROBB
Tutoring: Feedback
Languages: English, Spanish
Sarah Goodchild Robb is the Coordinator of Programming at Can Serrat. She received her BA in Art History and French from Bard College at Simon's Rock and completed an MFA in Studio Practice from The City College of New York, CUNY. There, she was nominated for a Dedalus Foundation Master of Fine Arts Fellowship, and was a recipient of the Therese Ralston McCabe Connor Award Study Abroad Fellowship, which allowed her to pursue a residency at Picture Berlin in Germany.  While completing her master's degree, she undertook a research internship at the Whitney Museum of American Art in New York.  Prior to her studies, she worked as an art administrator and educator at a non-profit organization in Portland, OR. In 2018 she co-founded MODS with visual artist Maria Kim (2018-2023), an international virtual support initiative for working artists.
Special projects and interests at the residency include managing Narrativa Collectiva, a co-creation-themed residency, Other Tongue, an experimental translation workshop, and editing and writing for the biennial catalogue. In 2021, she completed a course in Art Criticism and Writing with Node Curatorial Studies Online to help hone her own writing and creative skills. For the past several years, she has read thousands of applications by serving on all of the juries at Can Serrat for both the contemporary art and writing submission. Writing about one's work is an important skill likened to an act of translation. Sarah enjoys helping people to edit their statements, project descriptions, grants, and applications into clear and accessible prose in a relaxed and collaborative way that starts with a conversation about where you are in your practice.
* Cost with 20% discount available until January 2024:
Feedback : 44€ one session – 88€ two session
Cotxe: 80€ first sessions –  64€ following sessions