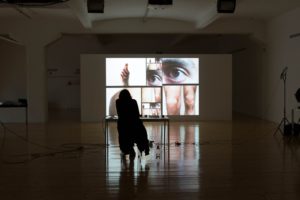 Ely completed his masters in Architecture from the Lebanese University-Fine Art institute in 2010. His body of work is concerned in questioning and protesting many of the world's human conflict and human nature, including his own. As an Interdisciplinary artist, he put his body and mind within particular situation for the viewer to watch and consider, or putting the viewer into a physical environment to wander, look and wonder. Ely often finds ways to visually represent numbers and statistics that he mines from his own life and personal habits. He also conducts durational performances and through repeated movements or labor he
cultivates an attention to the body as well as micro shifts in the surrounding environment. These actions point to time–the measuring of time, the experience of time, and even its dissolution into a rhythm through repetition. Although he establishes rigid rules and structures for himself with his body and routines,
the result is often poetic, even if at times consciously absurd. These actions of the body expand and allude to a larger discourse about identity, memory
and social justice.
Since he moved to Europe in 2012, his work has been exhibited in different venues across Europe, such as the Kanal-Centre Pompidou-Brussels, Museum of Sant Boi-Spain, Incendida-Madrid, SWAB international art fair (2015)-Barcelona, Centrale Fies-Dro,Italy, Kunststiftung Baden-Württemberg, Stuttgart, Buffer Fringe performance festival–Nicosia, Cyprus, La raffinerie-Brussels, Fabra I coats- Barcelona, …
Ely makes his residence in Can Serrat during May-June 2021
During 2022 Ely will be at Ca Serrat as part of the retorns program.
About his process while in residency >>>