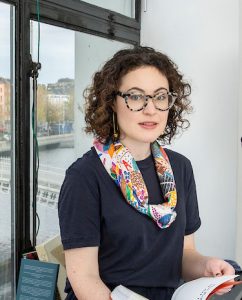 Her practice combines the disciplines of architecture, painting and writing, and through these addresses questions of material reality, the emotional charge of spaces and things, and how these overlap and combine.
As an architect, the exploration of ideas through drawing and painting has always been part of Banbha's practice. However, since 2020 I have committed to a pure visual arts practice, though still concerned with related ideas:
When designing a building the focus is on the physicality of space. My art practice is instead interested in the intangible atmosphere and feelings that human intervention, through habitation or otherwise, brings to those spaces. I am concerned with capturing places and objects which hold an emotional resonance. Painting these places is as much a record of the built environment, or interior architecture, as it is a way of examining that resonance.
In this painting practice, I am interested in reflecting on different academic but also experiential approaches to seeing, examining subjects at micro and macro level, moving between out of scales and perspectives, as when one might rationalize the built environment. The canvas is broken down into grids and horizons lines in tension with fluidity and expressiveness that painting allows.
Banbha makes her residence in Can Serrat in February 2023.
About his process while in residency >>>