Can Serrat invited Xavi Acarín to follow the residency during 2019 and organize an event in relation to the work of selected residents.  Collective Attempt is the name of the project he has proposed.  Below is more information about how we plan to celebrate this collaboration.
This programming will be the third iteration of Can Serrat's annual PARASITIO project.  
TEMPTATIVA COL.LECTIVA// COLLECTIVE ATTEMPT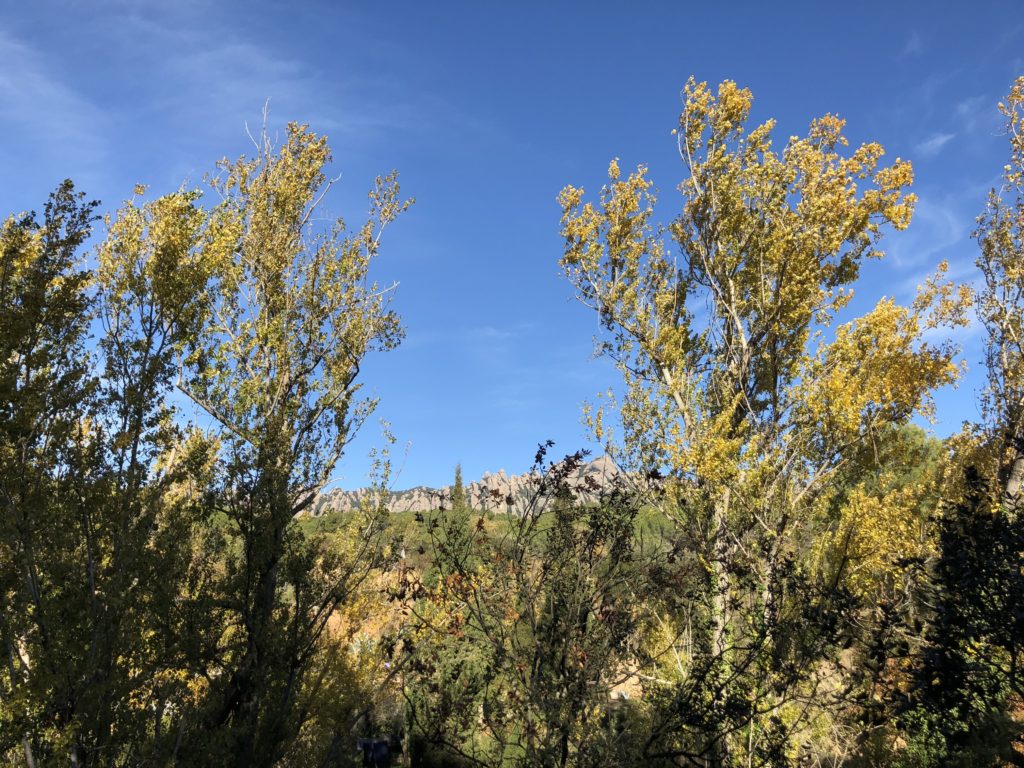 WHAT IS TEMPTATIVA COL.LECTIVA// COLLECTIVE ATTEMPT? 
Collective Attempt is a week-long workshop at Can Serrat International Residency, an eighteen-century house in the natural park of Montserrat mountain outside of Barcelona.  It will be held from June 28-July 5th, 2020 and is organized by curator Xavier Acarín.  The workshop is dedicated to working on and experimenting with different notions of collaboration and collectivity. 
WHO IS INVOLVED?
Selected 2019 residents
Collective Attempt is developed in relation to the work of selected 2019 artists-in-residence, who include Mohammad Alfaraj, Vanessa Donoso, Bruno Caracol, Duncan Gibbs, Natalya Gimson, Floy Krouchi, Yezica Tutic, and Marianne Vieulès.  Some of the topics these artists address are connected, but not limited to, community, working locally and with the land, play, permaculture, and environment.  
Guest curators
Departing from the work of the selected artists mentioned above, Acarín has invited guest curators and practicing artists from the Catalan context Caterina Almirall, Ignacio de Antonio, and Jara Rocha to propose a series of activities, readings, and discussions.  In collaboration with the 2019 residents, these exercises will activate topics they address in their respective practices in relation with the Can Serrat community.
You!
This program is open to an additional 8 more participants working in art and research.
More information below about how to apply by April 20, 2020.
CURATORIAL CONTENT 
If we were to characterize capitalism spillover into every aspect of subjectivity and sociability, a blob of oil would come to mind, sticky and viscous, overflowing and saturating contemporary life.  As global standardization codifies modes of living and dwelling, reducing difference, pre-determining spontaneity, and isolating individuals, are we still in time to elaborate a practice of transformation that opposes capitalist degradation? Can we use flexibility and adaptability, performative connectivity, and trans-disciplinary approaches as inconclusive means of experimentation? 
In this week-long workshop, we will look at collaboration and collectivity in artistic practices from a performative and ecological perspective. The program will combine study sessions with exploring the surrounding nature, and will be inclined towards ecofeminism, permaculture, cooperation, and conviviality. As a group, we will use these fields of inquiry to explore how we can live together.  Sections of the workshop will be elaborated on and presented to the public on the last day, while some of its traces will be gathered in a sort of archive. 
OUTCOMES
The selected participants will engage in a series of exercises, work sessions, group readings, and discussions that will evolve organically over the course of the week.  These sessions will culminate in an experimental publication and a presentation day. The content of this archive will be informed by the activities and dialogs that will arise and the format will be decided upon while working together as a group.  
On the last day, Sunday July 5th, the house will host a public event.  This will include a group exhibition and program of events organized by the 2019 residents, as well as presentations by the workshop facilitators and participants to share their work and process over the course of the week.   
APPLICATION AND IMPORTANT DATES
Those interested should send an email to xacarinwieland@gmail.com with a CV, a short bio, a statement of interest (500 words), and a website link or portfolio of their work before April 20, 2020. The fee of the program is 700€ and includes shared lodging, one prepared meal per day on weekdays, and communal staple groceries. The program will offer a limited number of partial scholarships for Spanish citizens and residents; please indicate your interest on this support on your statement of interest. 
Languages allowed to apply: English, Spanish, Catalan.
Participants should arrive on Sunday, June 28. The program will be in English although Catalan and Spanish will also occasionally be used. The selected candidates will receive further information. 
DATES
Arrive: June 28, 2020
Final workshop date: July 4th, 2020
Presentation and farewell: July 5th, 2020
Bios
Xavier Acarín Wieland is a curator working at the intersection of performance, architecture, and art.  His projects have addressed issues related to object performativity, material culture, precarity and globalization, architecture history, and radical thought. His exhibitions and projects have been presented at The New School for Social Research, Elastic City, Chez Bushwick, The Hessel Museum-CCS Bard, Peekskill Project 6, the Abrons Arts Center, ESTE Gallery, Knockdown Center and Unbag-Wendy's Subway in New York, La Ira de Dios/CheLA in Buenos Aires, HIAP Suomenlinna and Muu Kaapeli in Helsinki and LOOP Festival in Barcelona. He has written texts for exhibitions at P.A.D. Gallery, Galería Rosa Santos, Galería ADN, and Participant Inc. His articles, essays, and interviews have been published at A-Desk (2008-present), Culturas-La Vanguardia, Esnorquel, Terremoto, and BRAC (University of Barcelona). He has participated as author of the books Designing Experience (Bloomsbury, 2014), and Dear Helen (CCS Bard, 2014). He is currently teaching at Parsons School of Design and at the School of Visual Arts in New York City.
Caterina Almirall, is an independent curator and professor.  She started curating at the independent space El Passadís (Barcelona) and was active there between 2013 and 2016. Since then she has developed curatorial projects such as The Night of the Body, Bombon Projects, Barcelona, 2019; An exhibition as a spell, Can Felipa, Barcelona, 2018; 85% of the matter, C.A. Maristany, Sant Cugat/MAC, Mataró, 2017/18; I knock at the stone's front door, La Puntual, Sant Cugat/La Panera, Lleida/Espacio Trapézio, Madrid, 2016; The Great Illusion, Sala d'art; Art Jove, Barcelona, 2015. She has curated the one year project Terrassa Comisariado 2017/18 with Measuring precisely the legendary peaks!, and the EPHEMERAL program at SWAB Art Fair Barcelona 2018, 2019, and 2020. She is currently preparing a curatorial project with BCNProducció 2019/20. Almirall has collaborated on numerous occasions with other artists on research and creative projects. She writes regularly for A*Desk cultural magazine. She is a professor of Sociology of Arts at the Fine Arts Faculty at Barcelona University since 2016.  She graduated in Fine Arts and has a Master's degree in Arts and Education from Barcelona University.  She is currently pursuing a Ph.D. in Arts and Visual Culture Education, also at Barcelona University, where she is researching the relationship between self-managed and institutional practices within the artistic context of Barcelona.
Ignacio de Antonio Antón, is a researcher and artist.  Trained as an architect, he holds a Masters in Performance Studies from New York University, as a Fulbright Scholar.  He is interested in artistic research and practice in the field of time-based arts and the relationship between architecture, choreography, the event, and the spectator.  His artistic practice is informed by the field of action: happenings, performances and installations, with an experimental approach.  The aim of his work deepens a site-specific and context-specific criticality, and brings it to a point of uncertainty, throwing questions concerning the meaning of this – and other – approaches.  His research content has developed focuses on form and addresses the relationship between things.  He has studied architecture and performance studies in Madrid, São Paulo, and New York. He is currently pursuing a Ph.D. in Madrid within the research group Artea.
http://ignaciodeantonioanton.com/
Jara Rocha researches, facilitates, and experiments with cultural studies of technology, from a trans*feminist sensibility.  She is a cultural facilitator who relies on others, and attends to the semiotic-material urgencies of the mundane.  Together with Femke Snelting, they are currently developing the Possible Bodies project (volumetric technologies), with Nicolas Malevé they are inquiring the promises of artificial vision algorithms, with Xavier Gorgol and Kym Ward they are studying the somato-political operations of voice production in the series of workshops "Vibes & Leaks", with Lucía Egaña they are observing the mechanisms of institutional passing, with Joana Moll they are measuring the forces of the most mundane technocolonialism and with Laura Benítez and Helen Pritchard they are stressing the notion of partial reparation by writing "queer analytics" with respect to experiences of damage.  They often work with politics and aesthetics embedded in infrastructure and text logistics and test non-formal forms of learning in collective situations such as the Euraca Seminar, Teaching to Transgress, Relearn Summerschool, or The Underground Division.
http://jararocha.blogspot.com/ + https://possiblebodies.constantvzw.org/inventory/
Mohammad Alfaraj is an artist and freelance filmmaker.  His practice reflects a collaborative and multifaceted relationship to making and sharing content, moving with ease between commercial jobs, network television projects, artworks for exhibition and materials shared via social media.  When he is home, in Al Hassa, a city located in the Eastern Province and home to Saudi Arabia's largest oasis and most productive oil fields, he works with a group of collaborators who regularly come together to support each other's projects and produce photo and film content. In their collective work, they reflect on changes in the landscape and in the ways of life that they have witnessed during their lifetime.  Alfaraj's work has been shown at Athr Gallery, Jeddah (2018); Le murate Pac, Florence (2019); 21,39 Jeddah Arts (2017, 2019); Saudi Film Festival, Dammam (2015) and Dubai International Film Festival (2014).  He worked as a programmer in both Saudi Film Festival and poetry house festival in Dammam. He was awarded first place within the student category for his documentary Lost at the Saudi Film Festival, Dammam (2015).  He graduated from the King Fahd University of Petroleum and Minerals with a BSc in Applied Mechanical Engineering 2017.  Born in 1993 in Al Hassa, Saudi Arabia, he currently lives and works in the Eastern Province, Saudi Arabia.
https://www.instagram.com/mohammadalfaraj/
Vanessa Donoso is a visual artist living and working between Dublin and Barcelona. She studied at the School of Arts and Design Llotja, Barcelona, the University of Barcelona and the Winchester College of Art, UK.  She has recently exhibited nationally and internationally in selected solo exhibitions. Also in 2017, Vanessa completed two public works commissioned by the Royal College of Surgeons of Ireland and Facebook Head Quarters, both in Dublin. Vanessa completed a residency at Jiwar Creation and Society Artist Residency in Barcelona and worked as an invited artist on a project with the Black Church print studios, Dublin. Vanessa was awarded a full grant for an art residency in Can Serrat, Barcelona in 2019, was awarded a studio residency at the Royal Hibernian Academy in 2012, a Sculpture Workshop Residency Award and Bursary at the Fire Station Artists Studios in 2014, a year-long project studio at Temple Bar Gallery and Studios and a three-year studio membership also at Temple Bar Gallery and Studios. 2015/2018.  She is represented by Kevin Kavanagh Gallery, Dublin.
Bruno Caracol is a project-based artist and studied Design and Visual Arts at the Faculty of Fine Arts of Lisbon, where he lives, and participates in the performance collective GMURDA.  In 2017 he completed a Master in Communication Sciences, at FCSH-NOVA, around the idea of "wild nature" as a modern construct, and he participated in the DNA Contemporary Dance Festival, in Pamplona, Spain and the Biennial of Arts of Cerveira, Portugal. In recent years he has taken part in several artistic events, such as the "Plataforma Trafaria", a collaboration between the Hallo Platform, from Hamburg, and the EDA Association, from Lisbon, in 2016 and the Architecture Triennial of Lisbon, in 2014.  Between 2009 and 2011 he was part of Capacete, an artistic residence in Rio de Janeiro. During this period he took part in the event "V: E: R:", in Terra Una, Minas Gerais; in the CCSP exhibition program, in São Paulo; and with María Moreira and Marcelo Wasem, organized a cycle of events on and with artists collectives from Rio de Janeiro, "Jogos de Escuta"
https://caracol.carbonmade.com/
Duncan Gibbs is a contemporary artist from England currently based in Barcelona.  After graduating from the Slade School of Art, Duncan was living and working in London.  After a recent collaborative exhibition with Limbo, an art space in Peckham, Duncan has been on a residency in rural Finland, developing site specific works. A main focus of this residency and an on going part of Duncan's research has been experimenting with different approaches to documenting ephemeral art works.
Natalya Gimson is a writer who grew up in Olympia, Washington and is now based in Berlin, Germany.  She graduated from The Evergreen State College in 2015. Her short stories and poetry explore the liminal space of multicultural identity, sexuality & the body's experience and the effect of words on the page. She is the co-founder of the group Idea Salon. Her work has appeared in DADDY, INDIE, and SLOTH magazine.
Floy Krouchi is a sound artist and electroacoustic music composer from Paris.  She works with sound as a phenomenon in its multiple dimensions: physical, plastic, instrumental, abstract, and radiophonic. She uses the vibrational and invisible qualities of this medium as a metaphor for invisible aspects of reality, questioning perceptions and creating disruptions in space and time.  In her pieces, sound and silence are often forming an anthropological dispositive to collect, investigate and reorganize fragments of reality and identities through orality. Listening is considered as a practice of resistance –to imposed productivity of time, visual saturation, and challenge short attention spans.  Lately, she has been investigating the relationship between technology, magic, and the techniques of the avant-garde (such as cut-ups and surrealism).
Yezica Tutic was born in 1987 in Buenos Aires, Argentina, making her the first generation born there, from a Yugoslavian immigrant family.  In 2007, she enrolled at the Argentinian National University of Art in Buenos Aires, double majoring in Painting and in Scenery and Costumes. During her final year at UNA, she began a 2-year-long training with Tulio De Sagastizabal, an internationally acclaimed Argentinian abstract painter.  A life-changing trip to New York City in 2013 inspired her subsequent move there, where she has been for the past 4 years. She has exhibited her work in different solo and group art shows in several galleries, artistic institutions, and warehouses. She also spends countless hours in her studio in Bushwick developing and investigating different ways to express herself artistically while she continues to educate and push herself forward to making an impact in the art scene of New York City.
http://www.yezicatutic.com – https://vimeo.com/user14757631  
Marianne Vieulès is a visual artist and writer currently based on earth.  Her latest works are poetry written by and for wild machines.  This past year she worked on rehabilitating the stories and visibility of women who have participated in the history of computer science.  In 2016 she began a story with cosmic irony, her training for an impossible space conquest.  To this day, she still works on earth.