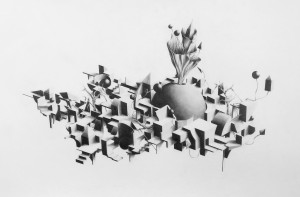 I am an architect/artist based in Copenhagen. I graduated from the Aarhus School of Architecture with a project that can be seen as a merger of architecture, visual art and philosophy. Since then I have continued to work in the spheres of these art forms.
Drawing is, without doubt, my main media, but I also tend to use other media when working on larger projects. Generally, I work in a rather intuitive way – for instance; I never sketch when drawing. The expressions I use in my work are often gathered when strolling around the contexts of mine – from the international context to the super local one.
I've been exhibiting my work on various occasions and have been affiliated to galleries in Denmark and the United Kingdom. The Danish Arts Foundation supports my stay at Can Serrat where I will be working on a dual project concerning the masses of Montserrat and the district of Eixample in Barcelona.