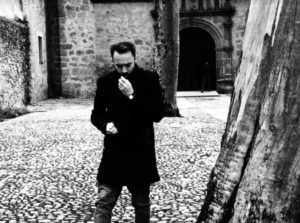 Nací en Sevilla, un domingo de feria. Casi llego a futbolista profesional con el Sevilla siendo del Betis. Por lo tanto, amo y odio a partes iguales la "sevillanía". Cuando acabé selectividad escogí medicina en el autobús en el que iba a presentar el papeleo. Filología quedó la segunda.
En segundo de carrera, el hospital en el que estudiaba invitaron a Antonio Gala, a dar una conferencia y aquella noche le dije a mi padre que lo dejaba y que me metía a escritor. Pero a la mañana siguiente fui a clases otra vez. En cuarto, cuando vi mi primer paciente en prácticas, me enteré de que aquella decisión del autobús al final iba a ser un golpe de suerte. Terminé, me eligieron para dar el discurso de fin de carrera "por mis dotes de escritor" y me vine a Madrid para la especialidad y buscar suerte literaria.
Gracias a buenos/nuevos amigos contacté con la editorial Huerga y Fierro y con ellos participé primero en un libro colectivo, 2012: Generación del #findelmundo, y luego hice mi primer libro en solitario, el poemario Bipedestación (y otros conceptos antropomorfos). Buscando otro tipo de aires editoriales convencí con el siguiente poemario a la editorial Huesos de jibia para publicar La linterna de Aristóteles, donde ya los bichos y los ciclos tienen gran protagonismo. En 2016 publiqué con Huerga y Fierro mi primer libro en prosa Diálogo de perros y ángeles. En este libro me invento, a partir de algunos eventos históricos difuminados, lo que pudo pasar entre Giacometti y la Dietrich, lo que traman Keith Richards y Bob Dylan buscando a la "Chica del norte", la amistad entre el místico Fray Luis de León y el poeta pornográfico Fray Melchor de la Serna, la vida en el Madrid de los 50 del reserva de Gento en el Real Madrid pre-yeyé o los últimos pensamientos de Natalie Wood mientras se ahoga, entre otras historias.
En febrero de 2020, publicaré mi primera novela con Seix Barral/Planeta.
Alejandro has made his residence in Can Serrat during the month of January 2020.
About his process while in residency >>