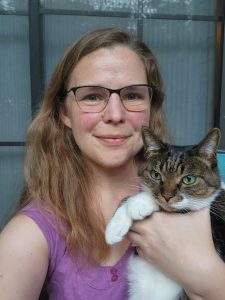 Sally Sperling grew up in a small town in Alabama in a house at the end of a dirt road surrounded by woods. She moved away to attend college in Birmingham, AL. There, she got a degree in English with a concentration in linguistics and played flute and piccolo in multiple musical ensembles.
After graduating, she joined the Peace Corps and taught English in Mongolia for two years. Her second year there, she started taking online classes which resulted in an MFA in Creative Writing three years later.
Sally has written poetry, fiction and nonfiction short stories, music and lyrics to multiple songs especially using piano, ukulele, and bass guitar. She has drafted one novel and multiple screenplays, including one musical film.
In 2022, she completed her Reiki I and Reiki II certifications, quit her job, and started copy editing for an online environmental news company.
She now has time to write and create and connect with the world in ways she hasn't ever before. She lives in the Birmingham, Alabama area with her Mongolian cat, Mission.
Sally did her residency at Can Serrat in November 2023.