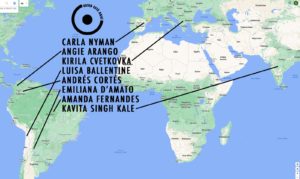 Congratulations to our residents selected from our  You are here🔥 to participate in our second residency online in March 2021
Full grant, Carla Nyman (Spain).

70% grant, Angie Arango (Colombia).

50% grant Kirila Cvetkovka (Macedonia).

30% grants:

Luisa Ballentine (Chile),

Andrés Cortés (Colombia),

Emiliano D'amato (Argentina),

Amanda Fernandes (Brasil),

Kavita Singh Kale (India).
We are grateful to our jury who included Iris Ferrer (Freelance cultural practitioner, REMOTA October session full grant recipient, The Philippines) and two members of En Palabras, María Ríos (Publisher, Colombia) and Diego Salazar (Cultural Manager, Colombia), whose perspectives and input enriched the selection process.
REMOTA is a project that enjoys the support of the Generalitat de Catalunya Departament de Cultura