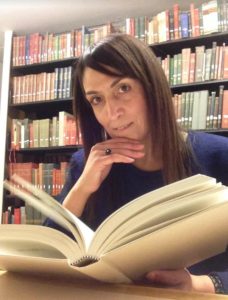 Nermin Saybaşılı is an Associate Professor in the Department of Art History at Mimar Sinan Fine Arts University. Saybaşılı received her doctorate in visual culture from Goldsmiths College, University of London. From September 2015 to June 2016, she worked at the School of Arts, Columbia University as a Fulbright visiting scholar. Her research interests include contemporary art practices and critical theory with a particular emphasis on 'visibilities' and 'invisibilities' in the regime of vision; the use of sound and voice in installation work and video art; mobility and counter-geographies; urban space and migration in the networked culture. Her articles have been published internationally in journals and books, catalogs and magazines. Saybaşılı is the author of two books in Turkish: Borders and Ghosts: Migratory Hauntings in Visual Culture (Metis, 2011) and Art on Site: Ethnographic Knowledge in Visual Culture Studies (Metis, 2017).
// https://mimarsinan.academia.edu/NerminSaybasili //
Nermin has made her residence in Can Serrat during the month of January 2020.