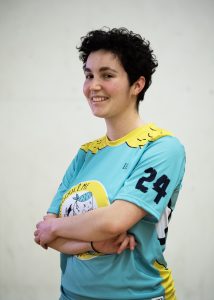 Morgane Larousserie is an artist graduated from EESI (European Higher School of the Image) and a roller derby player. It was during this period that they discovered and became interested in feminist and LGBTQIA+ struggles. Their work initially focused on themes of domestic violence, before opening up to militant issues.
How to escape violence? Their diploma is an attempt to defend the practice of gender non-mixity and self-advocacy, using the example of the roller derby club where they play as one possible solution. Today they question the way in which one advocates for one's rights as a queer and feminist person in a tense and reactionary political climate. Morgane constructs their thinking and framework through a documentary practice of sound, video and photographic recordings. In this process, film montage becomes their writing tool.
Morgane realizes their residency from July to November 2023, as part of the collaboration between EESI and Can Serrat.