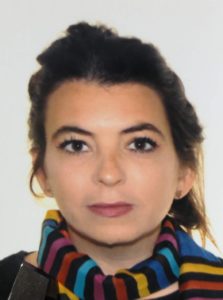 Maria was born in front of the Atlantic Ocean in the same city as Astor Piazzolla. She was crossed by the wind, the humidity, and the sea lions. As a child, she made sculptures on the beach and won her first competition. For eight years, she did situationist practices from school to home and vice versa. She performed acts of trust in the family, cutting her brother's hair to honor his love.
At the age of 12, she set up a stall selling old magazines that the ladies of the neighborhood gave to her. A table at the door of the house and the pile of fashion magazines with the avant-garde right of the moment, she remembers the magazine with a soldier of Malvinas.
He studied Scenography at the National University of the Arts in Buenos Aires. She worked as an art assistant and was safe in her stained clothes. She understood that sanity was not Atlantic and that everyone was going through the problems of hyperinflation.
For her grandmother, she got a Spanish passport with a picture of her looking like a cake. Maria kept a Prado book that she promised she would travel to Madrid and she wore her hair like the Infanta Margarita. She did a master's degree in Art at the Círculo de Bellas Artes thanks to the ACCIONA scholarship. She formed a group of expanded poetry and exhibited her work in Madrid and Barcelona. She now lives in Barcelona and researches dunes.
María Victorel Jáuregui will be in residence at Can Serrat during the month of April 2022.