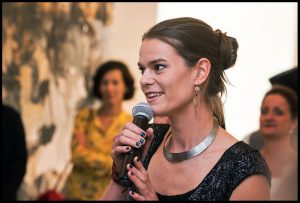 Born in 1987, Kristyna Erbenova currently lives and works in Australia.
The author was presented for the first time with the series Fragile Moments – intimate portraits of people at their most vulnerable time, and afterwards with the cycle Private Territories where she was interested in landscape anomalies. As the title itself suggests, the author considers these places to be projections of her inner world and as a convergence with the found territory. These projects already encompass a philosophical outreach and a melancholic gesture that has become so typical of Kristyna Erbenova's work.
She searched for similar motifs again in the series In The Darkless, which she's been continuously working on since 2014 and shoots exclusively at night during the full moon. She captures landscapes illuminated only by the Moon and the stars. During her lonely wanderings through nocturnal spaces, she intensifies her perception – she sharpens her senses, switches to an intuitive and instinctive mode. In the dark, she searches for authentic, strange and unusual places that are shot on a long exposure. She discovers for herself and for us, how the world would look like if we were able to see at night (hence "dark-less").
The "Darkless" project consists of several sub-series: Almost Breathless focuses on intimate portraits of people who are alone in the dark nature, while Moondust explores Australia's raw wilderness. However, here the author's nightly exploration is not associated with one specific landscape but is trying to introduce something authentic and primal about the human civilization.
The most recent contribution to the "Darkless" project is entitled The Limit of Blue. It portrays an endless palette of feelings in shades of blue, contained within us and the outside world. The author thus continues in her own therapy, seeking another truth beyond the generally perceived reality.
Kristyna Erbenova has already had a number of solo and group exhibitions. Her work has been published and positively reflected in the professional press and media. In 2019, she was among the finalists at the Head On Photo Festival in Sydney, Australia, and her work was also selected for the Dutch publication Fresh Eyes among the Top 100 Emerging Photographers.
www.kristynaerbenova.com
Kristyna makes her residence at Can Serrat during the month of October 2022.