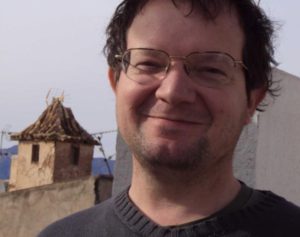 Guy was born in Chatham, UK, and has been a holiday courier, purchasing clerk, media analyst, archaeologist, and fan-heater production operative. He currently works in Milton Keynes for the Open University. His stories can be found in Somewhere This Way (Fiction Desk), Brace (Comma Press), To Hull And Back 2018, Madame Morte (Black Shuck), Liars League and elsewhere. Poems in Troubles Swapped For Something Fresh (Salt), The Iron Book of New Humorous Verse (Iron), The Rialto, The Interpreter's House and elsewhere. Competition first prizes include: HE Bates Short Story; Leicester Poetry Society (judged Jackie Kay); Redwing Sonnet Prize (judged by John Mole); Cannon Poets; Flash500. He occasionally reviews for Tears in the Fence and helps run the MK LitFest.
// https://www.liarsleague.com/liars_league/2016/04/asking-friends-by-guy-russell.html ;  https://web.archive.org/web/20140802122529/http:/www.stridemagazine.co.uk/Stride%20mag%202013/June%202013/Croftreview.htm //
Guy did his residence in Can Serrat during the month of January 2020.
About his process while in residency >>