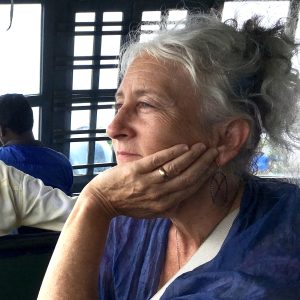 Gayle Friedman (b. 1962) is a largely self-taught mixed media artist who grew up in Birmingham, Alabama. She's interested in the stuff that flows in and out of our lives through relationships, encounters, and experiences. Her art frequently zeros in on inherited, collected, and found objects that others no longer want or find useful. Things percolate as she plays and arranges, and the connections emerge. As hidden meanings are revealed and emotions surface, she seeks a deeper understanding of who we are and the places we inhabit.
Her current project incorporates retired bandsaw blades, reclaimed wood, and leftover house paint. Because the bandsaw blades can be dangerous, tension is always a component of the work. She uses these rather disparate materials as she explores how to find joy and delight in perilous times. Friedman's practice is based in Washington, DC.
Gayle makes her residency at Can Serrat during the month of May 2023.