Festival ESCLETXA
15 September, 2019
7€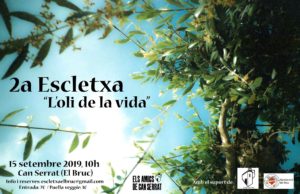 The second year of the annual festival ESCLETXA will be celebrated on Sunday, September 15, starting at 10 am.
In this second edition, the theme is "The Oil of Life," and refers to olive oil which is extracted from the olive trees found around the base of Montserrat mountain.  Oil is one of the most important perennials of Mediterranean civilization.  Without oil, we would lose one of the most significant and ancient symbols of identity: in ancient Athens, it signified fertility and is such a signifier that has carried on through the ages.  An olive grove is like a library in which one approaches in order to forget life, or in order to understand it better.
The spaces in which artistic actions will take place will pivot between natural spaces (albeit spaces modified and controlled by human influence such as an olive grove) and spaces created to extract oil (such as an old windmill), and other areas related to this precious resource for centuries that is also the basis of our culture.
The point of arrival and departure will be the center of artistic creation, Can Serrat (canserrat.org).  Spectators should be well-equipped to be able to enjoy a stroll that, although is not technically difficult, will have the characteristics of a small excursion skirting Monserrat.
As it will be an outdoor activity, if the weather prediction indicates rain, the festival will necessarily be postponed for a later date to be confirmed.
The price of the activity is 7 € (art walk) + 3 € for vegetarian paella (optional).  The tickets can be purchased in advance at the Tobacco shop in El Bruc ( c / Santa Teresa, s / n, El Bruc).  Additionally, it is possible to reserve by email escletxaelbruc@gmail.com, or to sign up the same day.  Children younger than 12 years have free admission to the art walk.

    2nd Edition Program
10:00h  Meet at Can Serrat (Masía de Can Serrat, s / n, El Bruc).
10:15h  Guided visit at an old oil windmill in El Bruc (Carrer Parroquia) and in an olive grove in El Bruc, from representatives of Associació de Pagesos del Peudemont de Montserrat.
12:00h Start of the Art Walk (artists to be confirmed).
13:30h  Walk ends at Can Serrat.
14:00h  Vegetarian paella. Local and artisanal products will also be available, such as beer, desserts and olive oil from el Bruc.
The artistic actions, between 10-15 minutes each, will span different disciplines such as theater, painting, performance, projections, dance, or poetry.
More information available on social media of Friends of Can Serrat:
ELS AMICS DE CAN SERRAT:
https://m.facebook.com/elsamicsdecanserrat/
If you are interested in becoming a member, you are invited to fill out the following form: Fes-te membre dels Amics de Can Serrat