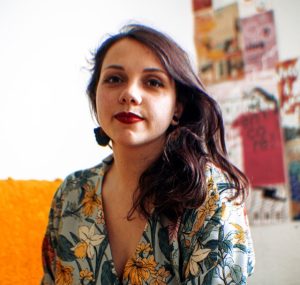 After completing a degree in Performing Arts, she joined the European Image School of Poitiers (EESI) in 2017. In 2019, she founded with five other students of the EESI artist collective Brasier. She develops a practice of live video (vjing), vocal performances, and a reflection on tattooing. She collaborates with the Cie du Théâtre dans la for the projects Balades Martiennes and Radiorama.
She joined the Atelier de recherche choré-graphic research workshop (ARC) at the University of Poitiers in 2020 and participated in the development of shows: Ronces by Thomas Ferrand, Les sentinelles by Thierry Thieu Niang, Queimada by Volmir Cordeiro.
With Axel Amiaud, they form the duo Guerrières and have been developing a musical and performative creation since November 2020.
In June 2021 she finished her thesis A Fleur de peau, which questions the use of contemporary tattooing, and has been developing a series of performances combining sound creation, singing, reading, and bloodline (a tattooing technique without ink).
In June 2022 she obtained her DNSEP with the congratulations of the jury.
She participated in the project of the New Grand Tour (NGT), by the French Institute in Italy and did a residency at the CROSS project (Ameno, Italy) in October 2022.
Since September 2022, she has been a resident at the Confort Moderne and is preparing an exhibition in duo with Pierre Richard.
Em'ma realizes her residency from May to September 2023, as part of the collaboration between EESI and Can Serrat.