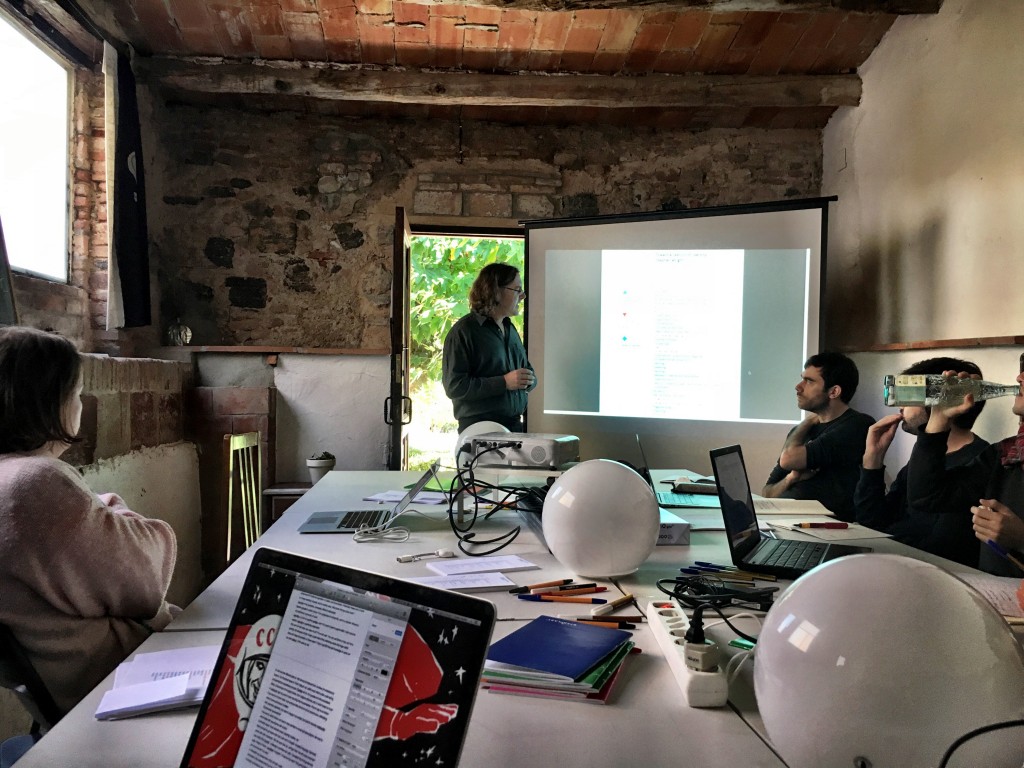 Can Serrat hosted this wiki-translation labUser to set about translating into Catalan and Spanish Toward a Lexicon of Usership (2013) which is a short theoretical book, seeking to tease out the implications for art, knowledge and political action of the increasing importance of usership as an aesthetic and politicaleconomic category.
The collaborative translation laboratory of Stephen Wright's book Toward a Lexicon of Usership (2013) started at Can Serrat Art Residency during November 2017, the project will continue its itinerary through other production centers in Catalunya: La Escocesa, ACVic, Roca Umbert, Nau Côclea and Hangar.
"In four Sunday-afternoon sessions over the course of November at Can Serrat, we set out to test and verify a bold and untried hypothesis: that to read a text is, in essence, to translate, counter translate and retranslate that text. That would mean that the robust use of a text — really reading it — would be to bring it quite literally into life and words in a different language. None (or few) of us were expert translators; none had the time to actually translate a book, but that was just the point: the desire to read works together, allowed a translation (in fact, two translations) to emerge without work actually taking place!
Over the coming months, beginning in mid-January, we will pursue these open wiki-translation laboratories in different formats and sites, opening them to different userships, but at the same time relying on a core group of committed users, who have been engaged since the beginning and may be asked to oversee the final version, which is to be published both digitally and in a paper edition in the Spring of 2018."
Stephen Wright
Stephen Wright is an art theorist, curator, and professor. Born in Canada, he lives and works in Paris where he is the coordinator with Mabel Tapia of the PhD 'Document and art' at EESI european art school. His own research includes 1: 1 artistic practices, questioning the conditions of possibility and use of an art without a work, without an artist, and without a spectator, that is, an art deliberately evading the horizon of the event. 
In 2013, he published 'Toward a Lexicon of Usership', a kind of "lexicon of uses", trying to rethink the vocabulary and institutions inherited from modernity.