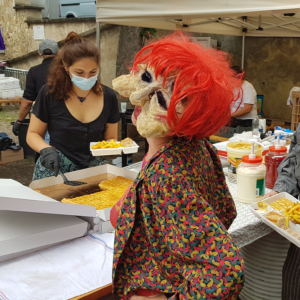 Coline (b. 1995, Saint Etienne, France) is a visual artist, performer and videographer based in Poitiers, France.
She builds transmedia itineraries that probe the border between reality and fiction. By navigating between spaces of freedom and structural constraints, she observes tensions within sociological, plastic, and linguistic games which are the starting point of her investigations.
Using the absurd as a tool, she constructs social fictions that integrate and disrupt everyday life through personal or collective forms. His work unfolds through experimental film, street theatre, relay constructions, sound poetry, and digital music.
Coline earned an MFA at the European School of Visual Art (EESI) (2021).
She also works in different collectives: the performance company "L'Archipel de la Sauvague", the artist collective "Acte" based in Poitiers and the duo "Dannie Distille" with Lisa Di Giovanni.
Coline Genebrier will be in residence at Can Serrat during the months of April, May, June, July, and November 2022.
About his process while in residency >>>