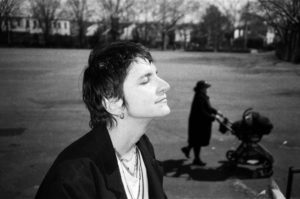 Amanda Monti is a cross-disciplinary poet and translator from Germany, currently based in Lenape Land / New York City. They use playful research methodologies to study and write about sites of porosity, love, and ecological interconnection. Their projects alternate between publishing, performance, pedagogy, sound and movement. Amanda has recently made a soundwalk with the MisFits Theatre company;  a poetry collection, Mycelial Person (Vegetarian Alcoholic Press, 2021); and a radio play, Spore Radical (Montez Press Radio, 2021).
Amanda's work can be found through the ICA London, The Poetry Project, McSweeney's, ExBerliner, Cuntemporary and The Offing, amongst others.
They are currently the recipient of a full grant residency at Can Serrat's artist program in Catalonia.
Amanda participated in the narrativa colectiva project at Can Serrat in January 2020 and returns for a residency during the spring of 2022 as a selected artist on full grant.
About their process while in residency during 2020 >>>