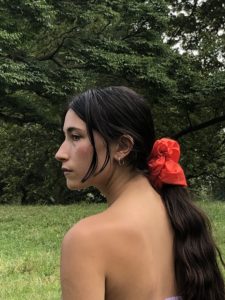 Her arts practice is intricately interdisciplinary in both material and concept. Through installations, spatial interventions, digital media, painting, drawing, sculpture, sewing, and intimate, curated events her work engages with and rearranges her personal visual language and image archive to play in the gaps between reality, fantasy, and fiction. Zora is interested in individual and collective memory, how these things combine and collide, including what has been imagined and invented. Her work exists in this fluid space, hinting at realism but characterized by a process of abstraction. Her continued exploration and reuse of imagery, distorted over time and in new contexts or iterations, becomes a visual language that can be traced through the arc of her practice.
Zora Moniz (b. 1995, Oakland, California) is an interdisciplinary artist living and working in New York. She received her BA in World Arts and Cultures with a minor in Food Studies from UCLA's School of Arts and Architecture in 2017. Recent exhibitions include A.D. Gallery, New York; The Hole, New York; WHAAM!, New York; Sculpture Gallery, Broad Art Center, Los Angeles; and The Loft at Gallery 1548, Los Angeles.
Zora Moniz will be in residence at Can Serrat during the month of April 2022.