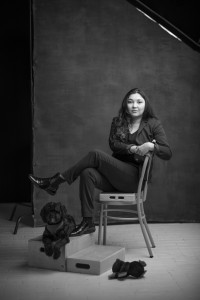 Sitora Takanaev is a filmmaker based in Milwaukee, WI. She is a graduate of the Tashkent State Institute of Arts, and Milwaukee Area Technical College. Born in Tashkent, Uzbekistan, she began working as the host of a television show at age 15, and began directing and producing for television at age 20. Her career in television includes numerous documentary segments for PBS (The Public Broadcasting Services) and an Emmy Award in 2013.
In 2014 she shifted her focus to fiction film and directed a kids short film titled Balloons. This film went to screen in over 40 film festivals around the world, including acclaimed Seattle Children's Film Festival and Tiff Kids (Toronto International Film Festival). She directed 5 short films since 2014 and screened her work in the festivals all over the world.
In February 2016 she was selected to be one of 35 participants of Abbas Kiarostami Workshop for Auteurs in Cuba. Late Kiarostami is considered "one of the most highly celebrated directors in the international film community of the last decade." The workshop focused on directing real people within their environment .
The result of that workshop was as short film titled "Jimagua" that won her the 2016 Milwaukee Film Festival Jury Award. In the same year she received Brico Forward Fund for her script "A Walk With My Brother" that provided funds for production of the same titled short film.
She is currently in the process of writing her first feature film script that she is planning to shoot in the summer of 2019.