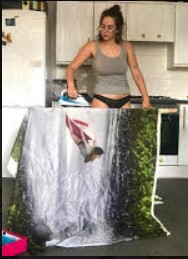 Rosie Dowd-Smyth is an Artist who works predominantly with sculpture.
Her practice is concerned with notions of gesture and the absurd, where humor is essential and Slapstick comedy is a recurring reference.
Dowd-Smyth takes an ad-hoc, hands-on approach to art-making, where thinking through – and an inherent joy in – making, and in objects themselves, are integral to her work. A recent graduate of Goldsmiths University of London, she has undertaken a year-long residency in Hamburg, Germany. Her work has been featured in exhibitions at Harts Lane, Octavius Street Gallery, Laurie Grove Baths, Galerie HFBK, and the ASA studios.
Resident in Can Serrat from the 02/05 – 04/07/2019