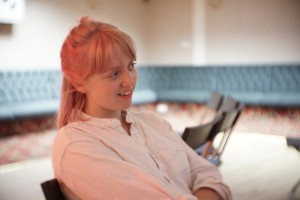 Natasha (b 1988) lives and works in London, and has been involved in running alternative art spaces since 2013.
She is currently part of School of the Damned, a non-hierarchical and egalitarian art MA, programmed and run entirely by its students. Her work as an artist is twofold; she has an ongoing photographic practice that is about the process of looking, as well as a wider collaborative practice which brings together a range of creative people and disciplines. Her photographic practice considers the relationships one can have with the 'studio' as a space for labor and internal dialogue. Working almost exclusively in 35mm stills, the lens of a camera directs this gaze. Works often manifest themselves in the form of films or 'expanded film' performances.
Alongside this, she frequently collaborates with a wider community of academics, performers, poets, and musicians. The most frequent of these projects is the reading group CO-. What ties these projects together is a drive to create platforms for expression on at a local level, and an interest in how creative endeavors can push for a deeper sense of community; how art can be a 'doing' word. Natasha has shown work at The Barbican Centre, Guest Projects London, the Dyson Gallery Royal College of Art, and has recently been on a residency at the Merz Barn in Ambleside, Cumbia.
Natasha was a resident in Can Serrat in January 2018 and volunteer artist coordinator for the October 2019 residency group.