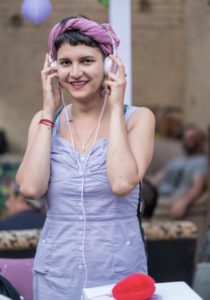 I am a poet, storyteller and interdisciplinary artist working on the intersections of queer subject-hood and ecological inquiry. I am currently an MFA candidate at the Pratt Institute for Writing and Social Activism in New York City, where I also co-organise a collective of socially engaged writers and translators.
A long term goal of my work is to explore how the use of storytelling might open up questions, sensibilities, and imaginaries around more liveable, queer futures that aren't built on war, domination, and extermination.
As a (founding)member of DIY collectives in Berlin and London, I am also invested in horizontal/mycelial learning models and the creation of inclusive environments to make work alongside/with one another.

Amanda has made her residence in Can Serrat during the month of January 2020.
About her process while in residency >>>