(English) Listening Workshop __ by Anna Wolfe-Pauly & Dorian Jose Braun
7 June, 2018 @ 8:00 pm

-

9 June, 2018 @ 12:00 pm

€50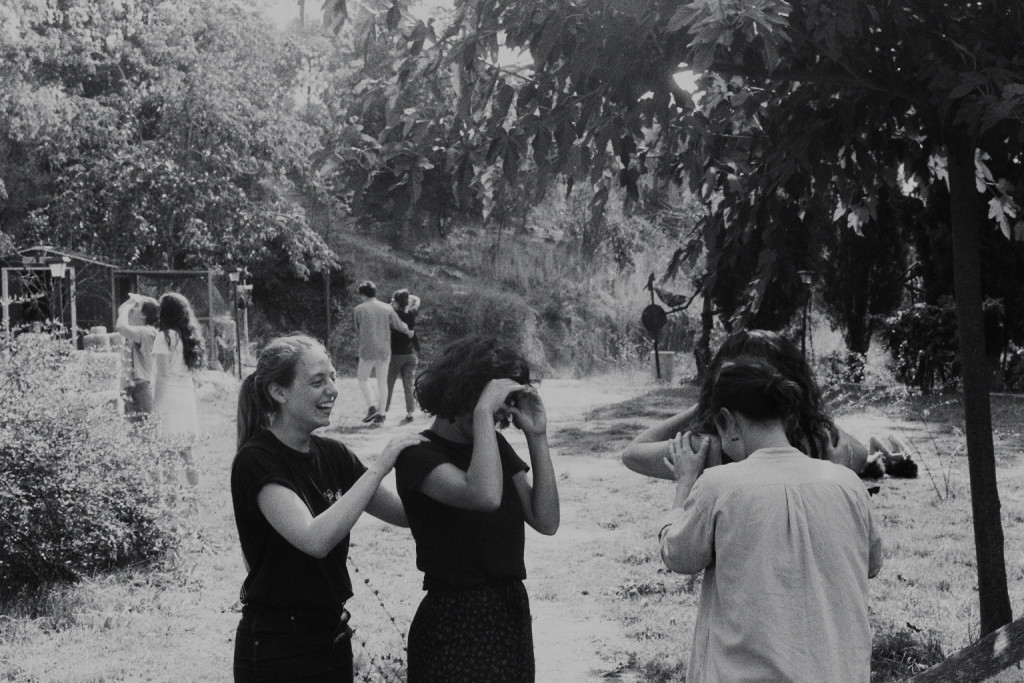 CAN SERRAT _ art residency
Listening Workshop
June 7 – 9
Anna Wolfe-Pauly & Dorian Braun
The world is not yet fully known. We can relate to our environment and to each other by virtue of our common immersion in the flux of the air. Another kind of knowledge is amassed through observation and it happens in sensation. Our cultural training promotes an understanding of the external environment through analysis and judgment which results in a devaluation of sense experience. Listening is a relational phenomenon, not limited to the ears that engages the whole body. It is an opening and a readiness to perceive. We are sonorous. We produce our own tones. How can we become more sensitive to them? We will slow down. We will engage in three realms of listening on their own and in concert with one another:
Self

Other and Self

Environment and Self
After each exercise participants will share through:
Solo reflection

One-to-one active listening

Speaking within the larger group
We will enter a state of deep slomo and reverberate deep inner states. Feeling, thinking, and willing act as the organizational and thematic guide for our day. The informal learning will take place in and around the forest of Montserrat.  
Bios
Anna Wolfe-Pauly is an American artist who has been making work around concepts of attention and observation for over 10 years. Dorian Braun's practice lies in attuning to a liberty that consists in the development of all the material, intellectual and moral powers that are latent in each person. He is based in Scotland. Anna and Dorian are working to develop a method  around how sensation and listening shape environmental dialogue. This work has culminated in listening workshops and texts on the method.
Dorian's work has always used the gallery as an active site wherein the audience, artist, and the artwork become equal players. They join together. They correspond and are articulated through a lived sensation. The physical transformation of material has been a force of collective determinism. Dorian's practice has shifted from physical learning ( engaging with material ) to a purely dialogic relational practice. Anna's recent projects have investigated the tool as a meeting place be it a windsock or a text. Her projects have focused on developing communication with remote space using new tools. She thinks of these as training tools. In the instance of Windroom, this device was created to be used alone and in groups in order to improve correspondence with the wind. With the event Future Weather, Anna created custom floatation devices and led a group of twenty in exercises in buoyancy and unknowing. With the proposed work she is interested in the imaginary assuming the position of the tool.
http://cargocollective.com/dorianjosebraun
Schedule*:
JUNE 7th at 8pm > Welcome dinner and informal introductions After dinner walk around the garden to get acquainted with the place.
JUNE 8th from 10am to 7pm >
9am: Breakfast
10am – 1pm:
Arriving visualisation

Intro to each other ( how are we this morning )

High energy games

Relational softening games

Slowing down from high energy to slow perceiving with camera buddy

Lying down on the ground 1st deep listening exercises

Active listening one-to-one

Silent walk
1pm – 2pm: Picnic Lunch sharing in the group
2pm – 5pm:
Spoon exercise

Sense meditation

Sit spot

Reflection

Deep Listening to the end of the day
7pm: Dinner dialogue
JUNE 9th, from 6am to 12pm >
6am: Sunrise/early morning mountain walk for slowing down to the speed of the planet moving (for those who wish)  
Sit spot
10am – 12pm: Brunch and decompression/discussion
Workshop fee**:
152

€ (includes two nights accommodation, food, and workshop)

50€ for residents of Can Serrat.
Reservation process: Please send an email to canserratart@gmail.com before June 1st, 2018.
*We ask that if you sign up that you attend the full workshop.
** A non refundable reservation deposit is required  __ equivalent to 30% of the total amount.