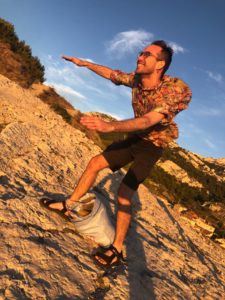 Ricardo Sarmiento Ramírez. 1994. Cuba.
His texts deal with the construction of identity, emigration, and activism. His audiovisual work has been shown in different contemporary art festivals around the world such as the Miami New Media Festival (USA), the VII Festival de Videoarte de Buenos Aires (Argentina), Muestra Iberoamericana de Cortometrajes de Frankfurt (Germany), and the exhibition América Late: 25 years in perspective (Casa de América, Madrid).
Member of the International Forum in the framework of Theatertreffen 2018 (Berlin) and the residency "watch&talk" (Zürcher Theater Spektakel 2019). Invited artist to the biennials PerfoArtNet (Bogotá) and "Nunca fuimos Nada" (Mexico) 2019. Fellow of Panorama Sur 2017, intensive seminar for playwrights in Buenos Aires. His most recent projects are Acuario, Diarios del miedo, and the collaboration with Stefan Kaegi (Rimini Protokoll) for Granma. Trombones de La Habana.
Ricardo makes his residence in Can Serrat during October 2021