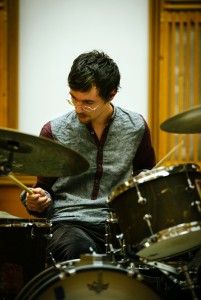 Andi Stecher is an Austrian-born and Berlin-based drummer, percussionist, and electronic musician. His current focus lies on his solo compositions and lives sets.
Andi Stecher's music is a combination and a mix of a wide variety of styles and fields of music and forms into a hybrid mix. His music is often interspersed with polyrhythmic elements, field recordings, coupled with drones, heavy bass, synth lines and electroacoustic elements. In addition to his solo works, he plays drums in a variety of bands / projects and composes for dance and performance. Recent collaborations and projects include:
Lydia Ainsworth ( Arbutus rec. ), Doudou N'Diaye Rose ( Deggi Daaj 2014 ) Ndagga Rhythm Force ( Hardwax ) , /F ( psalmus diuersae ), Marcela Ruiz Quintero, Andrea Belfi ( Miashma / Die Schachtel ), Eliad Wagner ( c.sides / Metropolis records ), Mary Orcher & Your Government ( Klangbad Rec. ), Colin Hacklander, The Norman Conquest ( MonotypeRec. / Intakt ) , Ignaz Schick ( Zarek / Charhizma ), DuChamp ( Boring Machines / Idiosyncratics label ), MuseRuole Festival, TRILOBIT ( Virtaranta / Horvath ), Bassano Bonelli Bassano ( V_ _ _ _A* ), Roman Catholics Release of "Varsovia" the debut album of Malfinia Ensemblo ( Duoproject with The Norman Conquest ) on Kvitnu Records ( + featured Track on the Wire Tapper 38 ) as well as his piece "Wundreinigung", out on the "Palavras e música" project initiated by the NME Collective ( Brazil ).
In June 2015, Andi Stecher's first solo album "austreiben / antreiben" was released through Heart of Noise Editionen. The record is a work about and a personal take on mask traditions and pre-Christian Alpine traditions, which are widespread all over Europe. Right now, Stecher works on his new solo record, exploring the possibilities of melting musical and rhythmical forms of newer styles of club music with traditional and/or tribal music from around the globe.