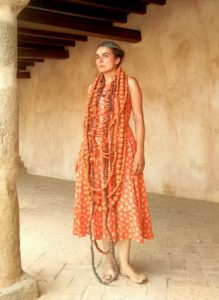 Vanessa Donoso López (born Barcelona, Spain) lives and works between Dublin and Barcelona. She studied at the School of Arts and Design Llotja, Barcelona, the University of Barcelona and the Winchester College of Art, UK.

She has recently exhibited nationally and internationally in selected solo exhibitions. Also in 2017, Vanessa completed two public works commissioned by the Royal College of Surgeons of Ireland and Facebook Head Quarters, both in Dublin. 

Vanessa just finished a residency at Jiwar Creation and Society Artist Residency in Barcelona.  She is currently working as an invited artist on a project with the Black Church print studios, Dublin. Later this year, Vanessa has been awarded a full grant for an art residency in Can Serrat, Barcelona. She was awarded a studio residency at the Royal Hibernian Academy in 2012, a Sculpture Workshop Residency Award and Bursary at the Firestation Artists Studios in 2014 a year project studio at Temple Bar Gallery and Studios and a three-year studio membership also at Temple Bar Gallery and Studios. 2015/2018.
Vanessa is represented by Kevin Kavanagh Gallery, Dublin.
During 2022 Vanessa will be at Ca Serrat as part of the retorns program.
////    www.vanessadonosolopez.com   ////
Resident in Can Serrat between the 01/06/2019 – 30/07/2019