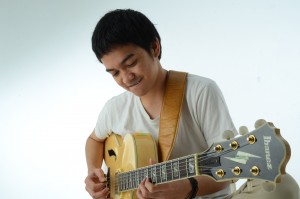 After five years period of his artistic career, Tesla Manaf who was mentioned as the best newcomer at Jazz Goes to Campus Festival and selected for nomination in reader's poll at Downbeat Magazine for four nominations has the same moment with his joyous phase under the label of Moonjune Records he also got many reviews from his international debut self-named Album "Tesla Manaf" (2015).
He embraces the experience he lived by, whether it's harrowing or fortifying, he gets to translated it into notes, designing the plots and movement, then convey it in a every rendition, that has also shown in Performing at Lanjong Art Festival 2015 has given him the chance to turned up this internal ingenuity that he gained the same in art residency project in Babayan Culture House, Cappadocia, Turkey in November 2015.
At the beginning of 2016, he has his own concert at Komunitas Salihara, Jakarta, which has thoughtfully successful as part of presenting the independent alternative jazz music scene in Indonesia. The concert was held in the middle of managing his own funding through a phenomenal social campaign with the medium of crowdfunding by musicians, fans, partners and colleagues to fulfill the chance that had been awarded to him for having a self-managed Tour Concert in Japan (4 cities, 7 stages).
For him, life is a story, being alive is how to retell it. He shows his intention by engaging himself as performer and composer to the society of music industry, attentively in sound engineering, music album producing and film scoring. And being the leading man on the stage, he gathers the chemistry by any collaboration set he could hold, in some way ensemble, traditional instruments with culture mixture and acoustic format could provide.
He enhanced his domain essentially by two remarkable albums, The 3rd Album of his life; "It's All Yours" (2011) ft. Mahagotra Ganesha—a traditional Balinese gamelan ensemble, which had given a contribution to describe the dialogue among humans, God, and nature. And the last, "A Man's Relationship with His Fragile Area" (2014) which has to lead his presence advanced to our extent; "Most definitely one of the best CDs of the decade forwards and backward," as once has sentenced by Acoustic Music, Netherland.