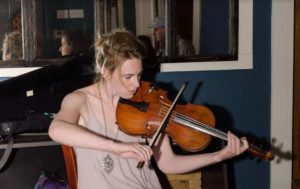 Clare Louise Harmon is a poet and music educator. She is the author of The Thingbody (Instar Books, 2015/2020). Her poems have appeared or are forthcoming in Sixth Finch, The Sycamore Review, Storm Cellar, The New Delta Review, The Peauxdunque Review, and elsewhere. She has been invited to read her work at The Tennessee Williams Festival, The Words & Music Festival, Delgado Community College, Le Poisson Rouge, and at numerous reading series throughout New Orleans.
In the summer of 2017, Harmon was a resident at Arte Studio Ginestrelle (Assisi, Italy) to complete the second edition of her first full-length, The Thingbody. In June of 2018, she participated in a week-long workshop led by Terrance Hayes at the Lighthouse Writers Workshop in Denver, Colorado.
Harmon has been invited to present her scholarly work on the phenomenology of music and the ethics of performance at Performa '11 (University of Aveiro, Portugal), Performa '13 (ABRAPEM), the annual conference of the New Zealand Musicological Society, Michigan State University, and elsewhere.
Harmon holds an undergraduate degree in music performance and art history from the University of Minnesota. Following the completion of this degree, she pursued graduate studies in viola performance at Michigan State University under the tutelage of Yuri Gandelsman (performance) and Dr. Marcie Ray (musicology). Most recently, she completed an M.F.A. in poetry from the University of New Orleans.
Presently, Harmon lives in New Orleans, LA and is an administrator for the Heritage School of Music at the Jazz & Heritage Foundation.
////  http://cargocollective.com/clareisapoet   ////
Resident in Can Serrat from the 1 to 21/08/2019
About her process while in residency >>