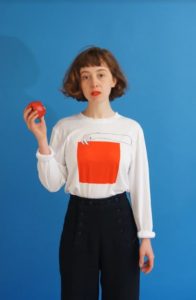 I am a painter and interdisciplinary installation artist living and working in rural Quebec, Canada. My current studio practice is comprised of two bodies of work: multimedia collaborations and oil painting. My multimedia work looks closely at quotidian routines and gestures of care. I am particularly interested in items and images that spark joy and nourish playfulness, which are integral aspects of giving and receiving care.
In contrast to my multimedia work, my painting is abstract. I work predominantly in oil so I can experiment with constructions of imagined and isolated forms, emphasizing colors and shapes that rarely occur naturally.
Going forward, I hope to further my inquiries into relatability and abstraction. I question if this form and content, primaries and abstraction, can be a metaphor for the unifying qualities of a diverse public.