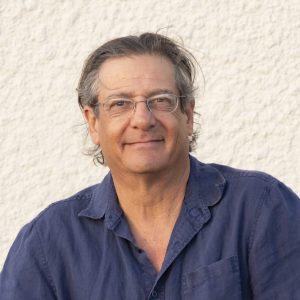 Ben Allanoff is a sculptor working with plant material, found objects, stone, and steel. He creates large-scale installations for public parks, botanic gardens, universities, social service organizations, and other institutions and entities across the US and in Mexico.
Many of his projects engage the public as collaborator/participants in their design and/or construction.
Employing a combination of figuration, abstraction, and calligraphic influences, his art connects with audiences in a way that is beyond the realm of ideas, spoken language, or rational thought. His primary goal in art-making is catalyzing connections among people, between people and the natural world, and between our conscious selves and other aspects of our psyches.

Favorite themes include fertility (in both the biological and cosmic senses) and the interplay between the spiritual, psychological, physical worlds. He is particularly interested in things that are phototropic, as well as things that float, swim, or fly.

Prior to his career as a visual artist, Allanoff worked for a decade as chair of an environmental group that worked to minimize the negative impacts of human activity in a rich and sensitive ecosystem in southern California. His strong connection to the natural world, and his background in filmmaking, inform his work as a visual artist.

Allanoff grew up near Philadelphia, PA, graduated from Duke University, and now lives in Joshua Tree, California.

Ben will be in residence at Can Serrat during August 2023.